Women's Euro 2022: Germany squad profile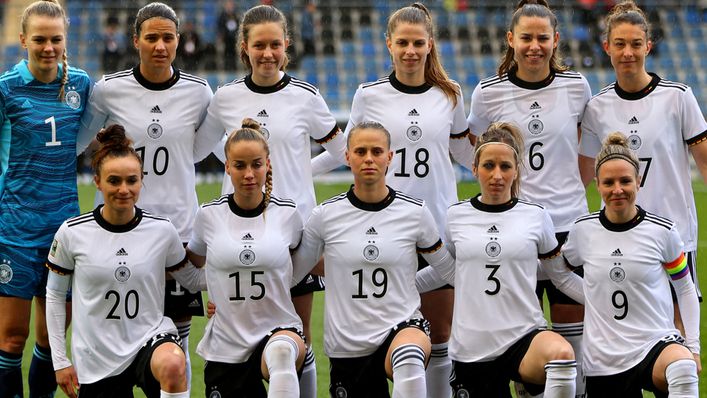 Germany have won the European Championship a record eight times — six more than any other team — with their last triumph coming in 2013.
Drawn to face Denmark, Spain and Finland in Group D this time around, we take a look at their squad as they aim to clinch a remarkable ninth title at this summer's Women's Euro 2022.
Germany squad for Euro 2022
Goalkeepers: Ann-Katrin Berger (Chelsea), Merle Frohms (Eintracht Frankfurt), Almuth Schult (Wolfsburg).
Defenders: Sara Doorsoun (Eintracht Frankfurt), Giulia Gwinn (Bayern Munich), Kathrin Hendrich (Wolfsburg), Sophia Kleinherne (Eintracht Frankfurt), Marina Hegering (Bayern Munich), Felicitas Rauch (Wolfsburg).
Midfielders: Lena Lattwein (Wolfsburg), Lena Oberdorf (Wolfsburg), Sydney Lohmann (Bayern Munich), Svenja Huth (Wolfsburg), Sara Dabritz (Paris Saint-Germain), Linda Dallmann (Bayern Munich), Lina Magull (Bayern Munich).
Forwards: Jule Brand (Hoffenheim), Lea Schuller (Bayern Munich), Laura Freigang (Eintracht Frankfurt), Alexandra Popp (Wolfsburg), Nicole Anyomi (Eintracht Frankfurt), Tabea Wassmuth (Wolfsburg), Klara Buhl (Bayern Munich).
Head coach — Martina Voss-Tecklenburg
Martina Voss-Tecklenburg won four European Championships as a player, making over 100 appearances for her country after making her international bow aged just 16.
Her performances at the 1991 World Cup led Brazilian icon Pele to pick Voss-Tecklenburg as his player of the tournament and she has brought all the experience from her playing days into her coaching career.
Taking charge of her country in 2018, the 54-year-old oversaw a quarter-final exit at the 2019 World Cup and will be eager to go deeper into a major tournament this time.
Previously successful in a six-year spell as Switzerland coach where she led the team to their first World Cup in 2015, the Duisburg-born tactician has outlined a semi-final place as a minimum requirement for the Nationalmannschaft.
Voss-Tecklenburg prefers a 4-3-3 formation with a dynamic midfield and has an abundance of talent at her disposal to put her country in contention for glory this summer.
Captain — Alexandra Popp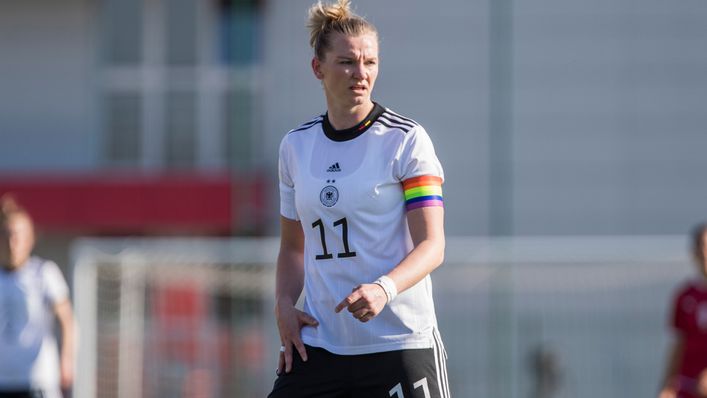 Alexandra Popp has enjoyed an illustrious career at domestic level having won 16 major trophies, with the majority at her current club Wolfsburg.
Two-time German Footballer of the Year, Popp has scored 53 goals in 113 appearances for the national team since making her debut in 2010.
The 31-year-old forward helped Germany cruise through qualification with four goals in five games, but it has not been the season she would have hoped as the prolific striker has been troubled by a year-long knee injury.
On returning from her time on the sidelines, she said: "I am ecstatic to be back, not just as a visitor but officially as a player. I'm incredibly thankful to be back on the pitch.
"The main goal during my recovery was always the European Championship. Whenever I faced a setback, that's what I was thinking about to dust myself off and get back to work."
Key player — Lea Schuller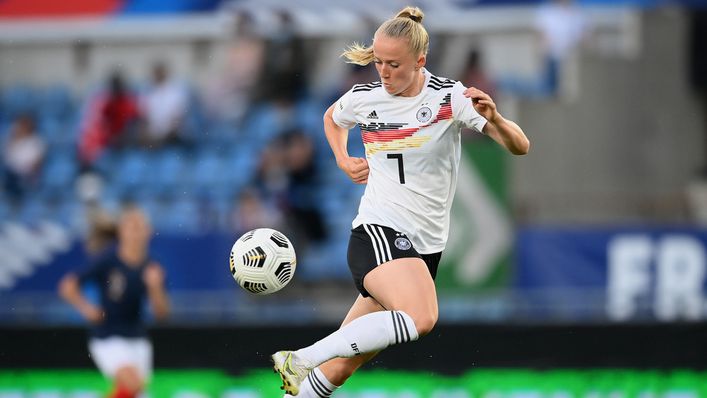 Lea Schuller is on the path to become a superstar in the women's game.
The clinical forward, 24, is top scorer in the Bundesliga this season for Bayern Munich, with 15 goals and has been tipped as the "female Marco Reus" for her pace and attacking instincts.
Schuller has a brilliant goal-to-game ratio with the national team, having found the net 25 times in 38 appearances.
There seems to be no stopping the prolific German and boss Voss-Tecklenburg is fully aware of her talents: "She can shoot with both her right and left foot. She's good in the air.
"Her size gives her a physical advantage and she brings with her a certain coolness, even though she's still very young."
One to watch — Sara Dabritz
Central midfielder Sara Dabritz has become a staple in the Germany line-up over the years, having won the last European Championship the nation achieved in 2013 as an 18-year-old.
Following four years at German giants Bayern, she moved to Paris Saint-Germain in 2019 but suffered a setback when sustaining an ACL injury early on in the French capital, but has since bounced back and been performing better than ever.
The 27-year-old has racked up 85 caps and scored 17 goals for the national side and if she can remain injury free for the tournament, she will be a force to reckon with in the middle of the pitch.
On her journey to this point in her career, Dabritz reflects: "I think the injury helped me progress as a player, as a human being, because of all the obstacles I had to go through in my rehab.
"I could feel that it made me stronger mentally and also in the end on the pitch, because you work so hard physically in the rehab.
"I missed football so much in the time I couldn't play. I really love the game.
"I'm growing, I'm 27 now and I've played many games for the national team and the clubs, so I call myself an experienced player."
Germany's Euro 2022 fixtures
July 8: Germany vs Denmark, 8pm, Brentford Community Stadium
July 12: Germany vs Spain, 8pm, Brentford Community Stadium
July 16: Finland vs Germany, 8pm, Stadium MK
LiveScore Bet Squads
Some of the biggest stars in women's football are hunting for glory at Euro 2022 — and you can earn cash when they perform with Squads, our fantastic free-to-play game.
After opting in at LiveScore Bet, simply follow the prompts to reveal your randomly generated players for the upcoming round of games before spinning the wheel to see your personalised 'reward amount'.
Once that is done, it is just a case of sitting back and cheering on your players — because every time a member of your Squad scores, you net a cash reward!
T&Cs apply. Click HERE for more information.
Tags