Wolff refuses to rule out drastic changes at Mercedes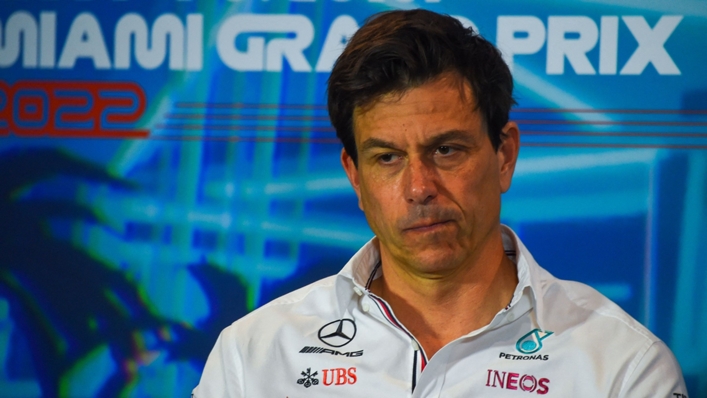 Mercedes principal Toto Wolff has refused to rule out the team reverting to an older car concept as they continue to trail Red Bull and Ferrari after enduring a poor start to the season.
George Russell and Lewis Hamilton finished fifth and sixth respectively at the inaugural Miami Grand Prix on Sunday as the team's difficult start to the 2022 campaign continued, leading Wolff to declare Mercedes were "in no man's land" as the third-fastest outfit on the grid.
Both drivers have criticised the feel of the team's W13 car after managing just one podium finish apiece this term, with seven-time drivers' champion Hamilton asserting the team were yet to take a "step forward" after a troubled start to the season.
Mercedes' eight-year run of constructors' championships now looks destined to come to an end, with Ferrari possessing a slender lead over Red Bull in the team standings after five races.
Speaking after reigning world champion Max Verstappen claimed victory in Florida, Wolff said a return to the car concept used during pre-season testing at Barcelona could not be ruled out, despite it being "clearly much slower on paper".
However, Wolff said the team's focus had to be on making the current iteration of the car work.
"We need to find out how we can make the current car work predictably for the drivers," he said.
"I wouldn't discount anything. But we need to give all of our people that have produced great race cars in the past the benefit of the doubt and we believe this is the route to go.
"We are faithful to the current concept. We're not looking at the lady next door [to see] if we like it more or not, because it's still good.
"We need to understand, before we make a decision on another concept – where did this one go wrong? And what is the goodness of the concept and what is the badness of the concept?"