WNBA star Griner sentenced to nine years in Russian prison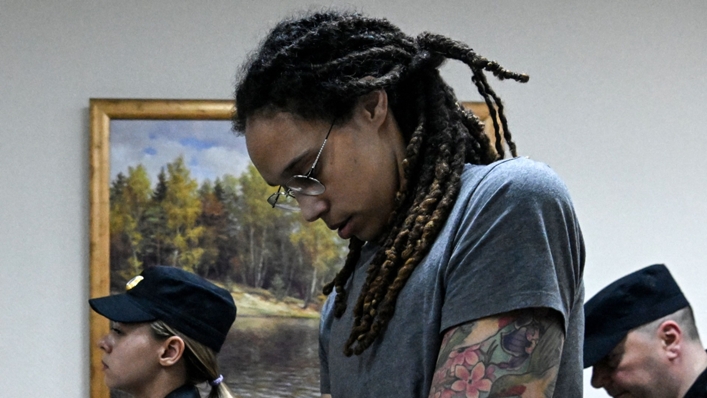 WNBA star Brittney Griner was found guilty of drug possession and drug smuggling with criminal intent and sentenced to nine years in a Russian prison on Thursday.
Judge Anna Sotnikova reached her verdict quickly, which also included a fine of 1million rubles, rejecting Griner's apology and plea for leniency for bringing less than a gram of cannabis oil into the country more than five months ago.
United States president Joe Biden called the sentence "unacceptable".
While the war in Ukraine continues to cause tension between the US government and Moscow, the US State Department is now expected to negotiate a prisoner exchange with Russia, and a conviction was necessary before the process of organising a swap could begin.
An eight-time All-Star with the Phoenix Mercury and widely considered one of the greatest players in WNBA history, the 31-year-old Griner was arrested in Moscow's Sheremetyevo International Airport on February 17 for carrying vape cartridges containing cannabis oil in her luggage. She was returning to Russia, where she has played since 2014 during the WNBA offseason.
The WNBA and NBA issued a joint statement after the sentence was handed down.
"Today's verdict and sentencing is unjustified and unfortunate but not unexpected, and Brittney Griner remains wrongly detained," the statement read.
"The WNBA and NBA's commitment to her safe return has not wavered, and it is our hope that we are near the end of this process of finally bringing BG home to the United States."
At her trail on July 7, her lawyers argued that Griner was using the cannabis for medicinal purposes to treat chronic pain sustained over the course of her career.
While on the stand, the two-time Olympic champion said she accidentally packed the cartridges and was unaware cannabis oil was outlawed in Russia.
"Today, American citizen Brittney Griner received a prison sentence that is one more reminder of what the world already knew: Russia is wrongfully detaining Brittney," Biden said in a statement.
"It's unacceptable, and I call on Russia to release her immediately, so she can be with her wife, loved ones, friends, and team-mates."
Tags