Willian would like to extend Fulham stay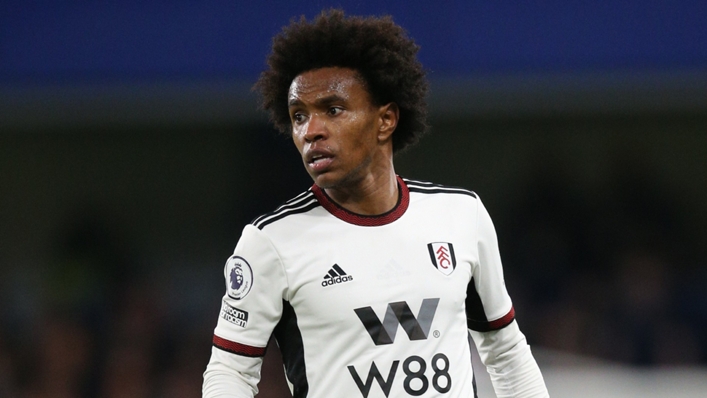 Willian wants to stay put at Fulham, though a decision has yet to be made on the Brazilian's future at Craven Cottage.
The former Chelsea and Arsenal playmaker, 34, joined the Cottagers in September last year and has been a key player this season.
Marco Silva's men signed off on an impressive first campaign back in the Premier League with a 2-1 defeat at Manchester United on Sunday, with Willian setting up Kenny Tete's opening goal.
That represented Willian's fifth league assist of the season and his 10th direct goal contribution in the competition for Fulham.
Willian — who is soon to be out of contract — is unsure if he will be staying in London but would be happy to do so.
He said: "I don't know yet, Honestly, I have no idea what is going to happen. The future belongs to God.
"If I stay at Fulham, for sure I'll be fine, I'll be happy. I feel very good there, it's a club that welcomed me very well. But if it's somewhere else, I'll try to do my best in the same way.
"I haven't decided yet. We'll see what happens in the next few weeks, what I'll decide. But if I could stay in the Premier League and at Fulham, it would be a good thing for me."
Explaining why he elected to return to England with Fulham, Willian said: "I've always loved the Premier League. That's not news to anyone, everyone knows how much I'm a fan of the league here.
"The Premier League, for me, is the best league in the world.
"Deciding to go to Fulham was a matter of a week or so. I was already in London.
"I came here to be closer to here and to have some conversations with my manager. It was a matter of a week or so before I decided to go to Fulham.
"I had some talks with Marco Silva as well and I really liked what I talked to him about and what he told me."
Another new signing that has starred for the Cottagers this season is Joao Palhinha, who has impressed as a holding midfielder.
"He's our watchdog," Willian said of the in-demand Portugal international. "He's the watchdog of our team. Without a doubt, he's an important player.
"He's a player who does a fundamental job. As they say in football, he does the dirty work, which is the player who steals a lot of the balls and makes it possible for us to attack the opposition."
Tags