Wilder congratulates Fury after post-fight snub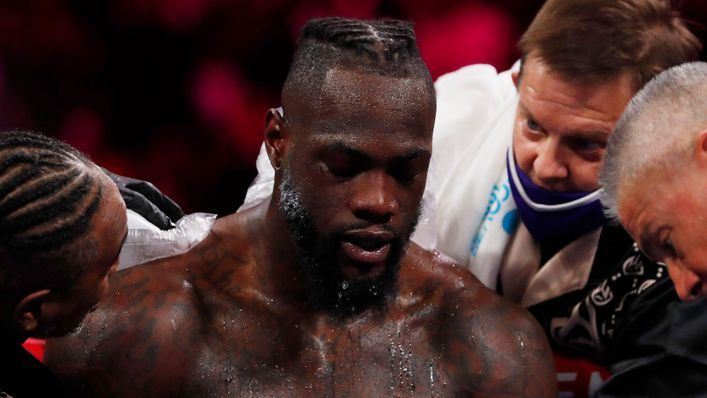 Deontay Wilder has congratulated Tyson Fury for winning their trilogy fight, having declined to do so in the immediate aftermath of the bout in Las Vegas.
The WBC champion defended his belt and maintained his unbeaten record (31-0-1) with a devastating 11th-round knockout of Wilder (42-2-1) in a classic slugfest.
The American left the ring soon after the fight was over and, according to Fury, refused to show any respect before departing.
"I'm a sportsman; I went over to show some love and respect and he didn't want to show it back," Fury said. "I'll pray for him so God will soften his heart."
"I said, 'Well done'. And he said, 'I don't wanna show any sportsmanship or respect.' I said, 'No problem'."
"Very surprised [by] that," Fury added. "Sore loser, an idiot. Do you know what? To be a top fighting man, you've got to show guts and respect and he couldn't do it tonight. And that's it."
However, Wilder appears to have had a change of heart, using a post on his official Instagram account to congratulate his opponent after an epic trilogy came to an end.
"Wow, what a hell of a night! I would like to first and foremost thank God for allowing me to give the world another part of me that's driven with passion and determination," Wilder wrote.
"I would like to thank my team and my fans for sticking by my side through this long process. I would be lying if I said that I wasn't disappointed in the outcome but after reflecting on my journey, I now see that what God wanted me to experience is far greater than what I expected to happen.
"We didn't get the win but a wise man once said the victories are within the lessons. I've learned that sometimes you have to lose to win. Although, I wanted the win I enjoyed seeing the fans win even more.
"Hopefully, I proved that I am a true Warrior and a true King in this sport. Hopefully, WE proved that no matter how hard you get hit with trials and tribulations you can always pick yourself up to live and fight again for what you believe in.
"Last but not least I would like to congratulate [Tyson Fury] for his victory and thank you for the great historical memories that will last forever."