Wiegman frustrated over timing of players being released for World Cup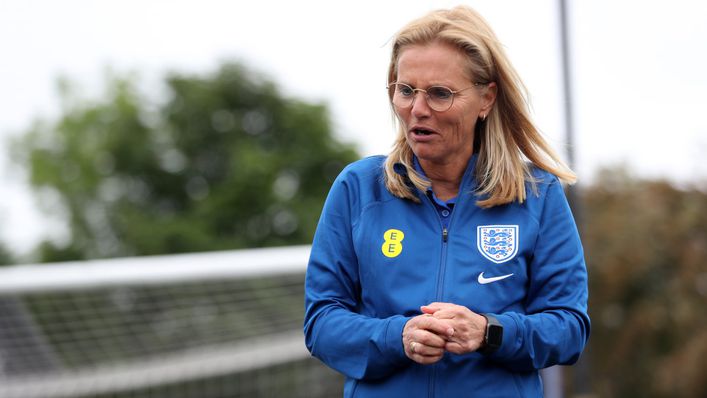 Sarina Wiegman has expressed her frustration over the uncertainty surrounding England's World Cup preparations as talks continue regarding the timing of players being released for duty ahead of the tournament.
The showpiece in Australia and New Zealand gets under way on July 20.
And in mid-May, the European Club Association and FIFA announced they had reached an agreement establishing a non-mandatory release period of June 23-29.
The ECA and FIFA said that timeframe, to act as a guideline for clubs and national associations with exact dates to be agreed between them, "strikes the all-important balance between players having sufficient rest while allowing adequate time to prepare for the World Cup".
The plan for England had been to start a pre-tournament camp on June 19 and Wiegman, who named her 23-player squad for the World Cup on Wednesday, said: "Of course that's frustrating because we have all our plans, we thought we were all set and then like a month ago, all of a sudden, things change.
"We didn't expect that, and it's so late. I do understand, it's about the calendar. It's really hard. It's about players having rest. We have to collaborate and talk to each other to try to solve that.
"But now in a short time like this, we're all set and a month before we start, it all changes. That's frustrating and it's hard too because I think this is not the time to do this. It's the time to do that later and solve it after this tournament."
Wiegman was asked specifically about midfielder Georgia Stanway, who plays for Bayern Munich, and said: "I still hope we negotiate. At this point it's hard but we're trying to get the conversation going again."
The Dutchwoman said the June 19 plan had been in place since last November. She added: "When we came to these plans, of course we have our principles, the knowledge, the expertise and experience, so we made the plan starting June 19.
"When you go to a World Cup, it's the highest level, the most density, volume, so you have to be at your highest level.
"We also know that if you have more than two weeks' rest, which if you would start later on you would have 26 days of no football, that's not good for the preparation for the players, for the welfare of players that wouldn't be good. So that's why we want to start on June 19.
"Knowing we're going to the other side of the world, that takes a couple of days, too.
"It's two days of travelling, you can't start training straight away because we first have to beat the jet-lag, so we really need that time to get prepared, so I just hope that we keep going with the good conversations and we can solve this."
Tags