Ref Support chief calls for end to 'silent' response to officials abuse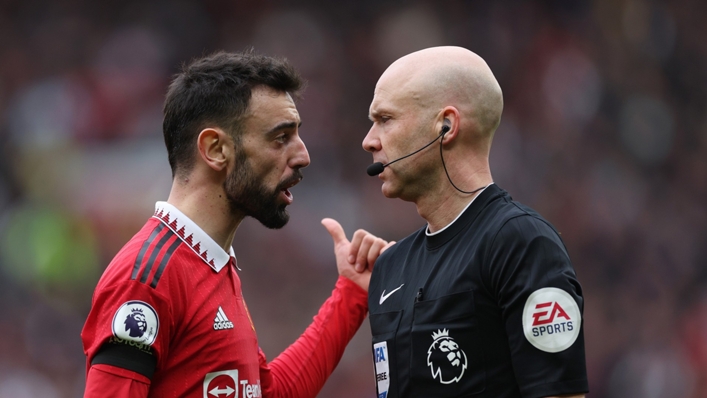 Football's governing bodies must do more to protect referees amid a "considerable rise" in abuse that has often been met with a "silent" response.
That was the message from Ref Support chief executive Martin Cassidy, who referenced issues with Bruno Fernandes, Aleksandar Mitrovic and Andrew Robertson in the Premier League this season.
Fernandes appeared to make contact with an assistant referee in Liverpool's 7-0 thrashing of Manchester United, while Mitrovic was banned for eight games after pushing Chris Kavanagh.
Robertson was another involved in an altercation with an official, when assistant referee Constantine Hatzidakis seemingly made contact with the Liverpool left-back with his elbow, though the official faced no further punishment after an investigation.
A couple of seasons earlier, former Manchester City striker Sergio Aguero came under scrutiny for placing his hand on the shoulder of assistant referee Sian Massey-Ellis during a home victory over Arsenal.
Cassidy believes the response to the rise in these issues has been inadequate, calling on the likes of the League Managers Association (LMA) and Professional Footballers' Association (PFA) to do more.
He told Stats Perform: "From a domestic point of view, what's been going on over here with the situations that [there has been] a considerable rise in contact with match officials from what's happened with Sian Massey-Ellis, Bruno Fernandes, Mitrovic, Robertson – it's on the rise.
"When's it going to stop? And there are people who are silent on this who shouldn't be silent on this – the LMA, the PFA and even the Football Supporters' Association, they're all quiet on this, they comment on everything else.
"They will talk all these white papers and governments, and they tweet about enough is enough about things [that are important] to them, but they never come out and publicly condemn their behaviour by their members.
"The LMA never do it. We wrote to them, and we got a very benign, weak response. [The] PFA never say anything about the behaviour of their players – their members.
"Certainly, there never seems to be any stance from supporters associations who really want to stand up and say: 'Look, we are going to do something here, what's the protocols, what's the code of conduct for managers in the LMA, what is the code of conduct for a professional footballer with regard to how they behave with these post-match comments here?'
"So, there are a lot of silent people here who need to step up like the FA have in this country. When these people criticise the FA, the LMA and the PFA need to look at themselves and say what they are doing to address the situation that's caused directly by their members."
Cassidy acknowledged the problems span wider than English football, with the ill-tempered Europa League final between Roma and Sevilla marred by abuse of referee Anthony Taylor after the game.
Aside from refereeing issues, the ongoing racially motivated problems with Vinicius Junior and Spanish football continue – and Cassidy believes UEFA must improve.
"UEFA hasn't really got a good track record on what they've done with racism," he added. "So, they have been quite weak on that really and very erratic.
"Look at what has happened in Spain, they haven't really taken control of that. So, I'm not very hopeful that they'll respond to this in a manner that football wants it to respond to, but hopefully they prove us wrong.
"UEFA does, in particular with the UEFA foundation, some wonderful stuff. But when it comes to stuff like this, they don't seem to – look at what happened in the Champions League final last year, Liverpool-Real Madrid – they never really covered themselves in glory there.
"Let's take this opportunity, UEFA, let's make the game better. Let's come out hard and tough and let's send a message that this behaviour is totally unacceptable in our game."
Tags