West Brom are on the brink of relegation and Sam Allardyce's perfect survival record is on the line.
Famed for his ability to get teams out of trouble, 66-year-old Allardyce has flirted with the Championship on a number of occasions but has never dropped through the Premier League trapdoor.
His last spell in England's second tier was during the 2011-12 campaign, when West Ham hired him to get them back into the top flight. He managed it at the first time of asking.
As the Baggies get set for a Black Country derby with Wolves tonight, should they bank on the former Hammers boss repeating that feat next season?
Shoring up the defence
Prior to his appointment, West Brom were conceding two goals, averaging 1.76 non-penalty expected goals against and were allowing the opposition 10.85 shots from inside the penalty area per 90 minutes.
The Allardyce era has seen all of these averages improve. Goals against are down to 1.9 and their non-penalty expected goals conceded stands at 1.47, while their shots against from inside the box works out at 9.15 per 90.
The most telling stat is the Baggies' non-penalty expected goals conceded under Allardyce.
Though a difference of 0.29 on a per 90 basis seems minimal, over a 38-game campaign it equates to an 11-goal swing.
Big changes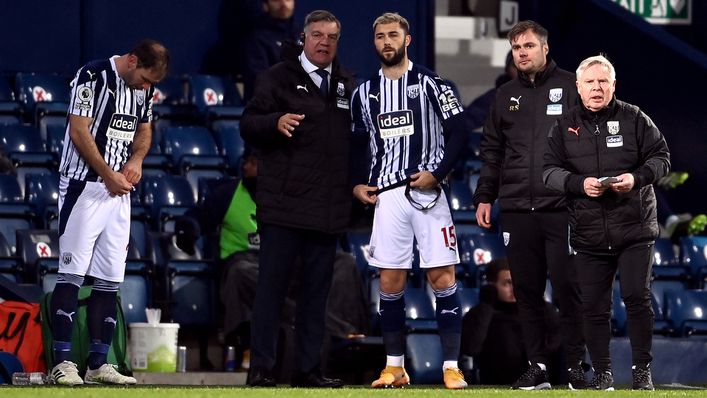 Allardyce's remarkable record at relegation-threatened sides shows he always improves a team upon taking over.
He is no stranger to being drafted in during the season but the 2020-21 campaign is much more condensed. It means less time on the training pitch and makes his impact even more impressive.
If he was to have a pre-season with the players, you would expect West Brom to look much more like a traditional Allardyce outfit.
Attacking intent
West Brom certainly are not a free-scoring side, with only Sheffield United (18) and Fulham (25) having scored fewer goals than the Baggies (30).
However, under Allardyce, goals per 90 minutes have increased by 0.23. Remarkably, they have achieved this despite taking fewer shots (7.9, down from 9.38).
The explanation for that improvement could well be expected goals (xG).
Before the club turned to Big Sam, their xG was 0.59 per 90. They were having shots but from low value areas. In the 20 matches he has overseen, West Brom's xG per 90 has risen to 1.12.
They are having fewer efforts but from better zones. As a result, the Baggies are scoring more goals.
It is quite the improvement — their previous average, extrapolated over a 38-game campaign, would have been 22.42. Under Allardyce, that figure would be 42.56.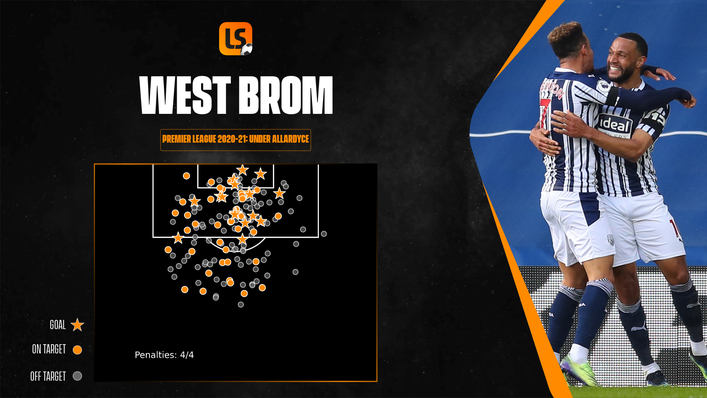 Willing to stay?
Allardyce was non-committal when quizzed about his future recently.
Asked about the chances of staying on next season, he said: "That's a long discussion with Luke (technical director Luke Dowling) and Ken (chief executive Xu Ke) on what changes do they think they have to make financially.
"How much money do they think they need to save? How many key players do they think they would have to let go? What budget would be available from then on?
"That's a very complex situation to sit down and look at.
"If I'm to stay at West Brom, I'd want to be getting them back in the Premier League at the first time of asking — like I did when I joined West Ham.
"I wouldn't want to mess about. I'd want to get straight back. But we all need to be going in the same direction to do that."
Righting a wrong
Allardyce has not spent more than one season with a club since his time with West Ham. He is usually drafted in to save a team from relegation, before sailing off into the sunset having met his objective.
Barring a miracle, that will not be the case with West Brom.
They look destined for the drop but Allardyce may want to get them back into the Premier League before he departs.
With their improvements under the veteran coach, the Baggies would be wise to keep him at The Hawthorns if at all possible.