Nash addresses Durant's offseason ultimatum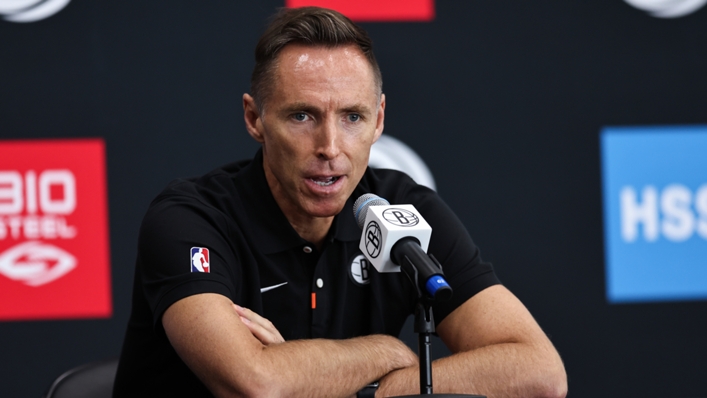 Brooklyn Nets head coach Steve Nash said there are no lingering ill effects from Kevin Durant's trade request or his demand that Nash be fired this summer.
Nash told reporters Tuesday that he met with Durant last month to "move forward" and "clear the air".
"We're fine," Nash said after the Nets' first practice of the season. "We're good. Ever since we talked, it's been like nothing's changed. I have a long history with Kevin. I love the guy. Families have issues. We had a moment and it's behind us. That's what happens. It's a common situation in the league.
"We all were hurting, seething, to go through what we went through last year, not being able to overcome all that adversity. Sometimes you lose perspective because you expect to win, but the reality is we were able to talk and discuss what we can improve on from last year, and also keep perspective. We went through a ton of stuff."
Durant shook the NBA this offseason when he demanded to be traded, citing the Phoenix Suns and Miami Heat as his preferred destinations.
When it became clear that an ideal trade was not imminent, Durant met with Nets owner Joe Tsai and reportedly said he was willing to remain in Brooklyn if Nash and general manager Sean Marks were replaced.
Nash pushed back Tuesday that Durant ever demanded a coaching change.
"I never thought that was 100 percent," Nash said. "There was a lot of things. It's not black and white like that, so there was a lot of factors. A lot of things behind the scenes.
"A lot of things reported are not accurate. A lot of things that are reported are not 100 percent accurate. So you get fragmented bits of truth. You get things that are flat out not true. It happens... so I never really get caught up in all that stuff.
"I'm going to hear it from Kevin when the time is right. I'm going to talk to Sean, I'm going to talk to all the parties involved. So you just work through it step by step. You don't overreact. We stay calm and work on communication and facts and here we are."
One of the central challenges for Nash this season will be to keep his team focused on the court despite the seemingly never-ending storm of storylines surrounding the Nets.
"I think we're in a really good position to start the season," Nash said. "And regardless of the way everyone wants to talk about drama all the time, we've been through this. I played in the league for 17, 18 years… It does not impact me the way maybe it impacts people on the street or in the media, so it was never really as a big a deal to me.
"I always thought we'd have our moment, we'd discuss it and we would choose a course and we're fortunate to all be in the gym working together again and excited. I think the energy's been outstanding."
Tags