Watt: Steelers' defense 'absolutely embarrassing' in Bengals rout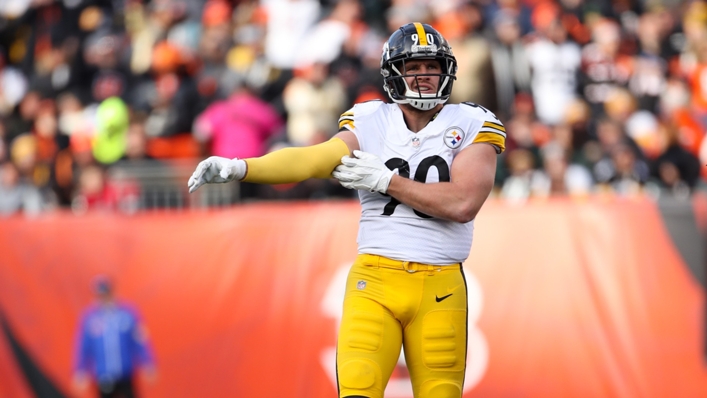 T.J. Watt described the Pittsburgh Steelers' defensive performance as "absolutely embarrassing" after they were routed 41-10 by the Cincinnati Bengals.
The Steelers suffered their first season sweep at the hands of the Bengals since 2009 on Sunday, stretching their winless run to three games.
The humbling defeat leaves the Steelers 5-5-1 but still within striking distance of the final AFC Wild Card spot, which is currently possessed by the Los Angeles Chargers, who defeated Pittsburgh 41-37 in Week 11.
Bengals running back Joe Mixon gashed the Steelers for 165 rushing yards and a pair of touchdowns. The Steelers have given up an average of 180.5 yards on the ground over the last four games.
Though they are still in the mix for the playoffs, star edge rusher Watt knows that will change if they cannot stem the tide on defense.
"It wasn't something any of us are proud of," Watt said. "You never want to have that feeling coming out of a game. We put it on tape and now we have to own it, move forward and know that everybody sees what just happened and what we can expect moving forward.
"We have to stop this before it continues to unravel and become a bigger issue than what it already is. We can't keep playing like this. It's absolutely embarrassing.
"We're trying to solve it and clearly we're not doing a good enough job. We have to go back to the film and everyone has to look at the film and watch themselves critically and figure out how to stop this thing because it's continuous."
Head coach Mike Tomlin shared Watt's sentiments.
"It's alarming, it is," Tomlin said of the amount of points conceded. "We're not trying to play it cool by any stretch.
"We don't play football like that, but we have been our last couple of weeks, so some adjustments need to be made."
The Steelers' final six games are all against playoff contenders. They face the Baltimore Ravens twice and also have games with the Minnesota Vikings, Tennessee Titans, Kansas City Chiefs and Cleveland Browns.
And veteran defensive lineman Cameron Heyward is under no illusion as to how those games will turn out if the Steelers cannot make said adjustments.
Asked if this is the worst Steelers defense he has been a part of since being drafted in 2011, Heyward replied: "I don't know, I'm probably going to say yes.
"I don't look at the past. All I can do is worry about the present. There's a lot of football to be played, but if we do what we did out there today, we won't win another damn game."