Watson disciplinary hearing set to begin as NFL seek suspension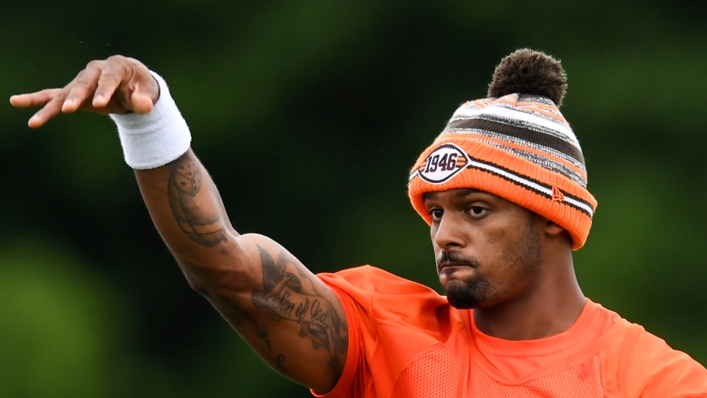 A retired federal judge will make a decision on Deshaun Watson's immediate NFL future, with a hearing set to begin on Tuesday determining whether he violated the league's personal conduct policy.
The Cleveland Browns quarterback was sued by 24 women who accused him of sexual misconduct during massage sessions in 2020 and 2021, when he was with the Houston Texans.
Twenty of those civil lawsuits recently ended with confidential settlements and Watson, who will attend the hearing in person, denies any wrongdoing.
Two grand juries in Texas have already looked at complaints against Watson and declined to indict him on criminal charges, though the NFL conduct policy does not require criminal charges in order to bring discipline.
Following an NFL investigation, it is widely reported they will seek an indefinite suspension of at least a year.
The league's personal conduct policy aims to hold players and personnel to a "higher standard" and make sure they conduct themselves appropriately.
Retired federal judge Sue Robinson is the disciplinary officer appointed for the case and will issue a verdict on whether any violation occurred.
A verdict is expected next week before training camp but that may not bring the end to the matter.
Watson's representatives and the NFL Players Association would have the ability to appeal against any punishment, such as a suspension, while the NFL could also appeal for an increased sanction if they do not agree with the verdict.
But there will be no appeals if he is cleared of the charges.
Watson is hoping to avoid being sidelined for the second season in a row. He was not suspended in the 2021 campaign but did not play for the Texans amid his legal issues, having also requested a trade.
One of the game's leading QBs, Watson was ultimately traded in March this year. The Browns gave him a record guaranteed contract of $230million over five years.