EXCLUSIVE
Ward eyes dream finale as Wales' all-time leading scorer bows out
Helen Ward is eyeing one final hurrah on Saturday when Watford take on Nottingham Forest in the Women's National League play-off final as Wales' all-time leading goalscorer plays her last game.
Ward, who netted 44 goals in 102 international appearances, is calling time on a glittering career that saw her play for Arsenal and Chelsea — bookended by spells with the Hornets.
She has the opportunity to go out on a high by helping her team win promotion to the Women's Championship.
Ahead of the game at Stadium MK, the striker spoke exclusively to LiveScore about her career, how the landscape has changed in women's football and how her Vicarage Road mural compares to Elton John's.
Pride of Cymru
Ward's time in a Wales shirt saw her enter the history books and leave her country perfectly poised to qualify for a maiden international tournament.
She said: "My record for Wales is something I'm really proud of. To retire as the country's top scorer is really special.
"Hopefully, I've made my family proud, too. Everybody who helped me along the way, they played a huge part in everything.
"In July and August, when I am not pounding the turf in pre-season, it will be a proper opportunity for me to sit back and think about what I've achieved."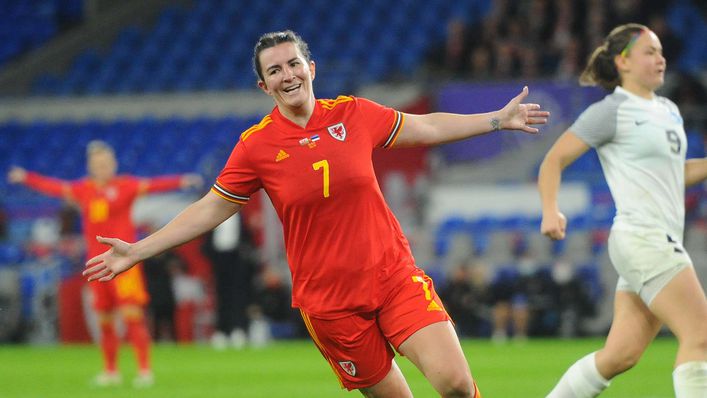 In Jess Fishlock and Sophie Ingle, Ward knows she is leaving Wales in good hands.
She added: "I'm so confident they're going to qualify for at least one of the next two major tournaments.
"I'm pleased for the likes of Sophie, Jess, Angharad James, Hayley Ladd and Rhiannon Roberts — all those players that have been around for so long now — that they're going to have an opportunity to get it over the line.
"In two years' time, come the Euros, I am going to be their biggest fan."
Changing landscape
The game Ward will leave behind is unrecognisable from the one that was initially a hobby for her.
The Watford skipper, 37, received her first professional contract aged 22, so takes huge satisfaction from the development of women's football.
She said: "When I was 15 or 16, there were no career prospects, it was just something you did. You paid to play.
"Now, you've got academies, pathways and professional set-ups. Young girls know they can make a career out of it.
"The growth has been phenomenal. The success of the Lionesses has really helped but all the media attention around it is transformed, too.
"I would never have done an interview like this in 2005 when I started playing senior football.
"To leave it at a time when there are pretty much two professional leagues, it's a great place to be."
Work still to do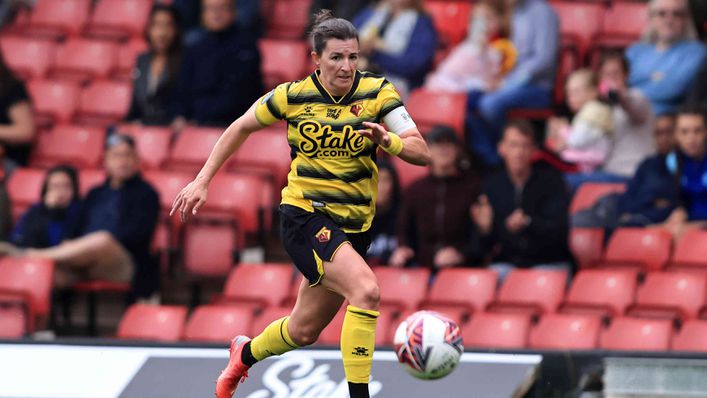 As she prepares to lead her side for the final time, Ward knows there is still a long way to go.
She added: "We see with the big games, like the FA Cup final last weekend, that when it is marketed right, people will come. We need the right people in place to market the game all the time.
"On the playing side, we need to get the medical side right. There has been a lot of press about ACL injuries recently and we need to work that out.
"It cannot just be happening because we're women, we need to make sure the set-up is professional and the workload on the body is being managed.
"Maternity is going to become a big part of the conversation, too. Making sure that's dealt with professionally."
Goodbye Vicarage Road
Ward's career has been commemorated by Watford with a mural at Vicarage Road, where she joins club legends Elton John, Graham Taylor and Luther Blissett in having a permanent tribute.
The artwork was unveiled after the Hornets' 2-1 win over Oxford last month — but the retiring forward was left in the dark until the last moment.
She said: "I had absolutely no idea it was coming. It's a bit strange going in and seeing your face however many times the size it really is.
"To have it up there alongside the likes of Elton and other legends is pretty special. I'm not going to put myself in their esteemed company at this point but it's very overwhelming."
Ward has the chance to etch her name further into the club's history books by bowing out with a win.
She added: "It's going to be a tight game but we've got to stick to what we do.
"We're feeling confident and hopefully it can be the perfect ending."
Tags