Mariners walk-off win to end play-off drought 'better than you can even dream'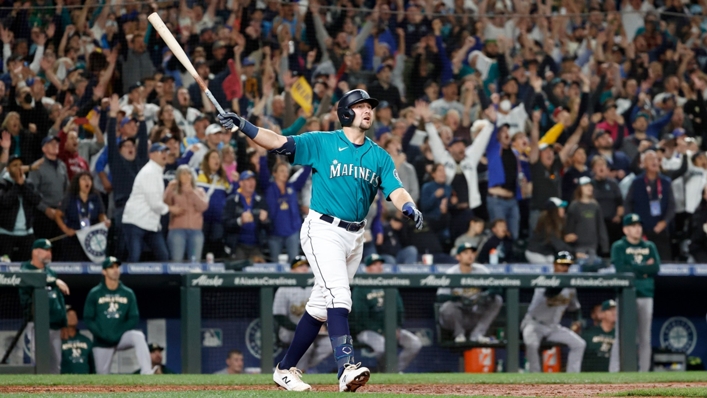 Cal Raleigh made MLB history to end the Seattle Mariners' 21-year playoff drought in fitting fashion – circumstances scarcely believable to manager Scott Servais.
The Mariners entered Friday knowing either defeat for the Baltimore Orioles or a victory of their own at home to the Oakland Athletics would clinch a Wild Card place.
Seattle were enduring the longest active postseason absence in any of the four major American sports.
And a surprise win for the Orioles at the New York Yankees kept Mariners fans waiting just a little longer, with their team very rarely doing things the easy way even in this hugely successful season.
But Raleigh, pinch-hitting for Luis Torrens, homered on a 3-2 pitch from Domingo Acevedo at the bottom of the ninth to clinch a sensational 2-1 walk-off win and a playoff series next weekend.
Raleigh became the first player in MLB history to secure a postseason berth with a pinch-hit, walk-off home run.
After only two as a rookie in 2021, this was also Raleigh's 26th homer of the year – a new single-season record for Mariners catchers.
That it happened at T-Mobile Park put the icing on the cake for Servais, who had already been talking up his team's World Series chances after beating the Texas Rangers the previous night.
"The fact that we're in our ballpark and there's 40,000 people here tonight, it's better than maybe what you can even dream it could be," Servais said.
"We have a lot of baseball yet ahead of us. We did end the drought tonight, which is a very special feeling.
"There's so many kids that grew up in the Pacific Northwest that don't know anything about the Mariners being in the playoffs, and now we get to show them."
Servais is not alone in outlining title ambitions in Seattle, where the Mariners remain the only MLB team never to have been to a World Series, let alone won one.
But president of baseball operations Jerry Dipoto believes the adversity has only made the franchise stronger.
"It wasn't fluid. It wasn't a linear road for us," he said. "We stumbled, and we fell, and I think that made us stronger.
"And along the way, we found stars, we found leaders, and we found we found a team that came together.
"I think what you see out there right now is a group of guys who believe that they can beat anybody."
Tags