Verstappen hails 'surprise' pole at US Grand Prix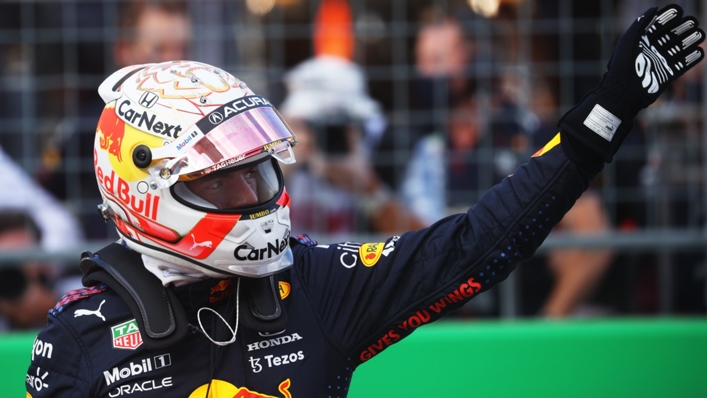 Max Verstappen ended Mercedes' run of six consecutive poles at the United States Grand Prix on Saturday as Lewis Hamilton repeatedly described his runs in Texas as a "struggle" but the rivals are geared up for another head-to-head showdown Sunday.
Verstappen, Hamilton and Sergio Perez each held pole position at various points in qualifying before the Red Bull star emerged on top.
That has not been the norm in Austin, but Verstappen noted the real work remains to be done on race day.
"Yeah, maybe a tiny bit of a surprise but you can clearly see it has been swinging a bit throughout the whole season," Verstappen told reporters. "Luckily it's still doing that and yeah, we'll see.
"I'm of course happy with the performance we've had today, let's find out tomorrow in the race – again, it's a different story and then of course we'll move on again to the next race and that again can be a different story because you can maybe look like favourites going into the weekend but you still need to pay attention to every single detail, to try and make it work.
"It's so closely matched that if you maybe miss one tiny detail or you just can't bring it together for whatever reason you miss out and that's what happened for us, for example, in Turkey."
Verstappen and Perez finished second and third behind Valtteri Bottas a fortnight ago in Istanbul and will look to get Red Bull back to the top of the podium in Texas, where Mexico native Perez in particular has enjoyed strong support from the crowd.
Perez will start third but said he does not believe starting positions will play a significant factor Sunday.
"I think it's going to be a pretty long race tomorrow, so not too concerned about the qualifying," he said. "I think there are plenty of opportunities for tomorrow."
Hamilton, a six-time winner at the circuit, will share that hope as he tries to bounce back after a fifth-place finish in Turkey, though his comments Saturday did not suggest much confidence in the way his car has felt this week.
"It was definitely a difficult session," Hamilton said. "I would say for us since P1 it's been a little bit tougher, we have been making lots of changes to try to improve the car.
"But it's been a real challenge, and going into qualifying I think the first session wasn't that great. Q1 wasn't spectacular but it started to improve, particularly on the medium tyre, and the last two runs were pretty good.
"I think [Red Bull] have just been pretty quick all weekend and I think we were able to match them or be ahead in P1 but since then they have really pulled a lot.
"You can tell that the car is quick because obviously both of them are up there and pulling in some seriously good laps. But we are in a good position to fight them tomorrow and I hope we can."