Verstappen concedes Red Bull are 'struggling more than normal'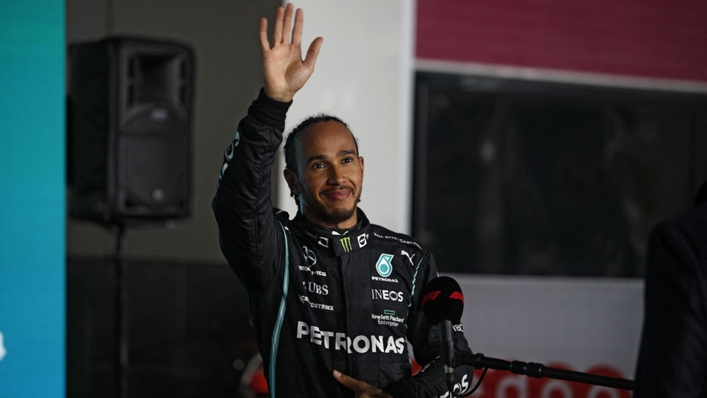 Max Verstappen conceded Red Bull are struggling for pace after a "beautiful" lap from Lewis Hamilton saw the Mercedes driver take pole for the Qatar Grand Prix.
Hamilton, who cut Verstappen's lead in the drivers' championship to 14 points with his victory in Sao Paulo last time out, was quickest on Saturday with a blistering lap of 1:20.827.
Verstappen could not get close to that and was left to settle for second for the first Formula One race in Qatar, the Dutchman finishing 0.455 seconds off the pace.
Valtteri Bottas was third for Mercedes, with Red Bull's setback of Verstappen being unable to get ahead of Hamilton on the grid exacerbated by Sergio Perez failing to make it out of Q2.
Perez will start in 11th, meaning it is Hamilton who has a clear edge going into another crucial race.
Speaking after qualifying, Verstappen said: "[We're] lacking a bit of pace, it's been just a bit more tricky for us, again, in qualifying.
"It just shows we're struggling a bit more than normal. All to play for, but I wish we could have fought for more.
"There's a lot of unknowns, we just need to work on our start and we'll see where we end up."
The difference between Hamilton and Verstappen marked the largest pole margin in dry qualifying this year, with things looking up for the seven-time world champion after a challenging week.
"Yesterday was a really difficult day, Thursday and Friday I wasn't feeling too well, really had to dig deep," said Hamilton.
"I was here until midnight last night, working with the engineers, we found a lot of areas where I could improve.
"We didn't have any traffic, that last lap was beautiful, this track is amazing to drive.
"I felt fantastic today, slept really well last night, that made a big difference."
Asked about strategy for the race, Hamilton added: "It's not the easiest of circuits to follow, but it's also not massively degrading on the tyres.
"It could be a one or two [stop], we'll find out tomorrow. It's nice and wide into turn one, so we'll be giving everything."

PROVISIONAL CLASSIFICATION
1. Lewis Hamilton (Mercedes)
2. Max Verstappen (Red Bull) +0.455s
3. Valtteri Bottas (Mercedes) +0.651s
4. Pierre Gasly (AlphaTauri) +0.813s
5. Fernando Alonso (Alpine) +0.843s
6. Lando Norris (McLaren) +0.904s
7. Carlos Sainz (Ferrari) +1.013s
8. Yuki Tsunoda (AlphaTauri) +1.054s
9. Esteban Ocon (Alpine) +1.201s
10. Sebastian Vettel (Aston Martin) +1.958s