Vaughn will continue to challenge Simmons after ejection in Nets' loss to the Suns
Peter Hanson
Stats Perform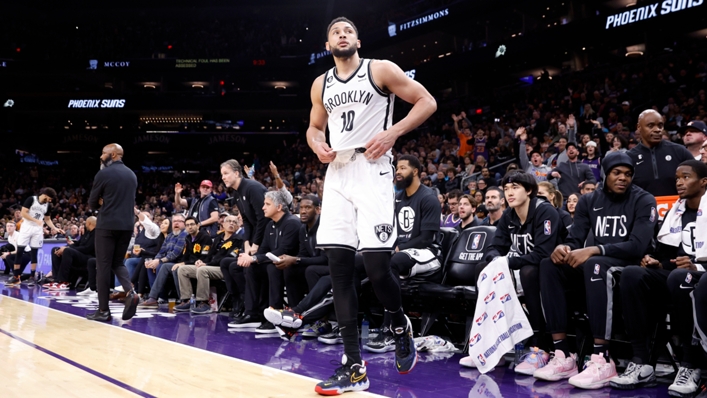 Jacque Vaughn will continue challenging Ben Simmons to answer his responsibilities after another disappointing outing saw him ejected in the Brooklyn Nets' loss to the Phoenix Suns.
Simmons was sent from the game for arguing with referee Eric Lewis having played just 18 minutes, as the Nets continued to struggle in the injury-enforced absence of Kevin Durant in a 117-112 loss – their fourth defeat in a row.
In his previous outing, Simmons had put up his first triple-double for the Nets in Tuesday's defeat to the San Antonio Spurs, but a season of ups-and-downs went on in Phoenix, where he spent most of the game contending with foul trouble.
Averaging just 7.5 points, 6.8 rebounds and 6.3 assists this campaign, the Nets need more from a player who has All-Star pedigree.
Vaughn is determined to spark more consistency in Simmons, who arrived last February as part of a blockbuster trade that sent James Harden to the Philadelphia 76ers.
"We need him to be productive, and that is without the fouls," Vaughn said. "That is helping us rebound the basketball. That is playing with poise and composure. That is pushing the pace for us.
"So unfortunately when you're a really good basketball player, your list is long and so are the responsibilities. And hopefully, we'll continue to ask of those things and challenge him and challenge this group to be able to answer those long lists."
For his part, Simmons felt the decisions given against him lacked consistency.
"I don't want to say nothing because I ain't trying to get another fine," he said.
"I think if you're going to call the game like that, then you've got to be consistent. I think it's been like that all year. If you're going to call a moving back, then you've got to be consistent [on] both ends. Same with the holding."
Team-mate Kyrie Irving remains confident in Simmons' ability to contribute to the Nets' cause but urged him to control his emotions going forward as the season reaches an important stretch towards the playoffs.
"Same thing we've been doing is just give him a ton of confidence," Irving said when asked how the team can help Simmons get going.
"But also knowing that he's mature enough to handle himself. He's a very talented basketball player, and we could name all the superlatives, but we need him in the game and I think he understands that, especially during this stretch we're going to need him in every game.
"I've gotten ejected before only once in my career. Tempers flare, you disagree with the refs, but the big picture is the most important thing, and on this team, I think Ben realises that. But tonight, just his emotions got the best of him."
The latest defeat leaves the Nets fourth in the Eastern Conference with a 27-17 record.
Tags