Solskjaer claims Varane always had United in his heart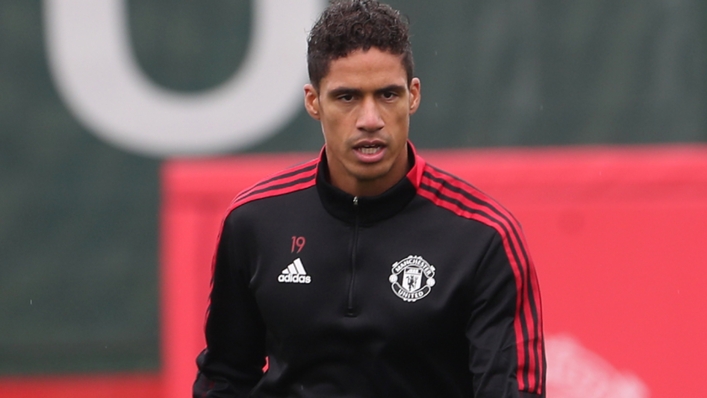 Ole Gunnar Solskjaer said Raphael Varane has held Manchester United in his heart for the past 10 years as the defender prepares for a possible debut against Southampton.
The France international was presented to fans at Old Trafford ahead of the 5-1 win over Leeds United last week, having signed a four-year deal after Real Madrid accepted an initial fee of around £34million.
The 28-year-old was wanted by United when he was a rising star at Lens, but he chose to join Madrid in 2011, where he went on to win three LaLiga titles and four Champions Leagues among a host of honours.
Solskjaer says Varane has conducted himself impressively in training this week ahead of the game with Southampton at St Mary's Stadium on Sunday and believes Varane has fulfilled something of an ambition by joining the Red Devils.
"If you follow football the last 10 years, that's the reason we wanted to sign him, what he's done over his career," the United manager said on Friday.
"It's no secret we were close when he went to Real Madrid 10 years ago, Sir Alex [Ferguson] was there speaking to them.
"His performances on the pitch, his demeanor off the pitch tells me that's a Man United player. I think that's been in his heart ever since he went to Real Madrid, that he had a little bit of a feeling for Man United. The Champions League wins, the World Cup win, everything about him is class. He's quick, strong, good in the air, can play with both feet.
"He's been humble, inquisitive, he asks questions, he doesn't want to learn by a mistake in the game, he wants to learn it on the training field before he comes on the pitch. Everything about him has been impressive."
There is also a chance that Edinson Cavani could return to action this weekend, having missed the victory over Leeds after spending additional time away from Manchester for personal reasons.
"Edinson's joined in, Raphael's joined in, so we're getting fitter and fitter. We've had a very good week. Let's see who's making the flight down to Southampton on Saturday," Solskjaer said.
"Edinson's always looked after himself. He's lacking in team training but he's been looking after himself, you can see that. He had different reasons why he was late, there were some personal reasons, but his body can tolerate a lot so it [the break] was something that was required not physically but for a different matter. He's ready to go."
David de Gea is set to continue in goal as Dean Henderson continues his recovery from coronavirus, with the England goalkeeper not expected to return to action until after the international break.
Solskjaer confirmed the message from the club is for every player to be double-vaccinated against COVID-19, although some have not done so.
"The whole situation around COVID is still unknown and that's the scary bit," he said. "You hear people have it, less fit people than footballers, and no symptoms, and fit footballers [have it] and you get after-effects and side-effects, tiredness, so it's a scary virus.
"With regards to Dean, he was tired after training and we needed to check him up. Now, he's much better, he's passed all the tests we've gone through with him and he's training, he's building himself up again because he lost a few weeks. He's not in full team training yet but it won't be too long.
"They're not all double-jabbed. I am and I encourage the lads to take the vaccination, but we can't force anyone to do that. To my understanding, we're wanting everyone to be double-jabbed and it's up to them."
Tags