Van Dijk 'enjoying the moment' ahead of crucial month for Liverpool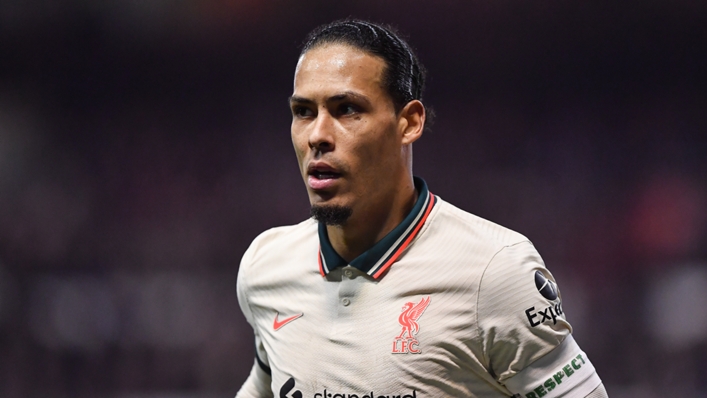 Virgil van Dijk insists he is "just enjoying the moment" ahead of a run of games that could define Liverpool's season.
The Reds remain in the hunt for an unprecedented quadruple, having already won the Carabao Cup, as they are into the last four of the FA Cup, the last eight of the Champions League and just a point behind Manchester City in the race for the Premier League title.
Ahead of the Champions League quarter-final first leg away at Benfica on Tuesday, Van Dijk told reporters he is calm about the upcoming period, and is pleased that Liverpool currently have a full squad to use across the three remaining competitions.
"If you would say at the start of the season that you will still be in all competitions by this time of the year, also having a full squad, which last season wasn't really the case, we would have taken it easily," he said.
"I'm just enjoying the moment. We all as footballers want to play games – it asks a lot physically from us, but I'm just going for it and enjoying every moment."
Van Dijk missed most of last season with a knee injury, but has been a near ever-present since his return for Jurgen Klopp's men, making 39 appearances in all competitions so far this campaign, with 24 clean sheets to his name.
Liverpool have conceded just three goals in their last 13 games in all competitions, and the 30-year-old was asked if he feels the defensive side of their game sometimes goes unnoticed.
"I must say, before the [January] international break, I did care a little bit," he said. "I think I said it in [another] interview, I felt a bit taken for granted, coming back from a long-term injury, that everything was normal, everyone expected the same [level of performance], and it's quite difficult.
"But after the break, I really didn't. Maybe that helped also the performances, but at the moment we're just doing it together. Everyone is playing their part, everyone is involved, the back four plus Alisson changes at times as well. If you look at the [EFL] cup final, with Caoimhin [Kelleher] coming in, the hero in the cup competitions.
"Kostas [Tsimikas] coming in, Joe [Gomez] coming in now as well, everyone is getting involved in the success we have as a defensive unit, but the way we defend is we do it all together, and everyone feels responsibility for that as well."
Questions have been asked of Liverpool's high line in recent weeks, despite the impressive defensive record, and Van Dijk was keen to question why, believing people are forgetting to discount opportunities against them that would have been given offside had a goal been scored.
"It's now being highlighted, but I think if you look back at the last couple of seasons we always try to play with a high line," he said.
"This season, and last season I think, we started with the rule that [we] keep playing on, and then the linesman puts the flag up. It looks like we are conceding chances against us.
"Even the other day [against Watford] when Ali had to make the save, it looked like we are vulnerable when he is offside, so I think that rule first of all has to get out of the way, but the other thing is the high line, we don't speak about it a lot but on the pitch you definitely have to communicate and I'm always trying to do that."
No team has caught opposition players offside in the Premier League as often this season, with Opta stats showing the Reds have successfully caught players offside on 124 occasions, well ahead of City (76), Wolves (70), Leicester City (62) and Brentford (59).
The Netherlands captain also had words of encouragement for his national team boss Louis van Gaal, who revealed on Dutch TV on Sunday he is undergoing treatment for prostate cancer.
"I was in shock last night when I heard his interview, because obviously he is getting his film out next week so I was just wondering how he would promote it and speak about his life, and then obviously this was a big shock," he added.
"I messaged him after the interview, but it definitely says a lot about him [as a person]... He's not the type of guy that needs a lot of sympathy, that's how he is, but I told him we are definitely going to be there for him as a group whenever needed, and also we can also hopefully make it for him a World Cup to never forget."
Tags