USA striker Swanson tore patella tendon against Ireland
John Skilbeck
Stats Perform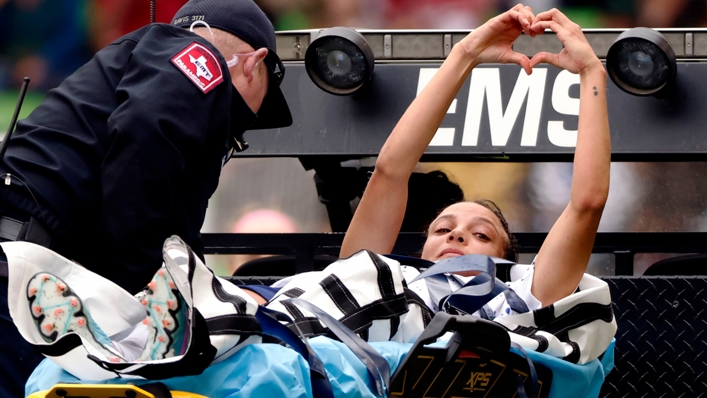 USA striker Mallory Swanson looks set to miss the Women's World Cup after suffering a torn patella tendon in a friendly against the Republic of Ireland.
The defending champions intended to include Swanson prominently in their plans for the tournament in Australia and New Zealand, which spans July and August.
But the Chicago Red Stars forward was hurt in Saturday's 2-0 win over Ireland in Austin.
She was carried off on a stretcher after suffering the blow shortly before half-time and taken to hospital.
Tests have revealed the extent of the injury, with a team statement announcing her squad place would be taken by Alyssa Thompson for Tuesday's game in St. Louis, also against Ireland.
The statement added: "Swanson tore the patella tendon in her left knee in yesterday's match against Ireland. We're with you all the way, Mal."
Experts point to recovery taking around six months for torn patella tendons and such an absence would mean 88-cap Swanson is sidelined for the World Cup.
The 24-year-old was making a team-leading sixth start of the year for the USWNT when she suffered the injury blow, seven years after making her international debut against the same opposition.
She has scored seven goals in six games for the USA this year and had been on a run of scoring in six consecutive games before injury ended her involvement in Saturday's game.
Tags