Usman faces most unique test at UFC 278 against Edwards
Liam Phillips
Stats Perform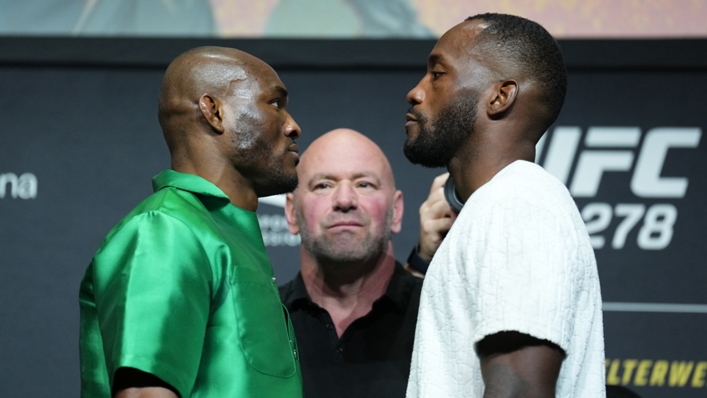 When Kamaru Usman steps into the cage on Saturday against Leon Edwards, he will be defending not just his UFC welterweight title, but also his status as mixed martial arts' top pound-for-pound talent.
Usman, 35, has never lost in the UFC, compiling a 15-0 run in the welterweight division since winning his season of the popular reality show The Ultimate Fighter.
After nine wins with the promotion, Usman was rewarded with a title shot against Tyron Woodley and manhandled the champion in dominating fashion, and since his first defence against Colby Covington in a competitive win, he is yet to be truly challenged.
Against an elite striker, he defeated Jorge Masvidal twice, including a stunning knockout in their second meeting.
When faced with an elite wrestler in Covington – who has arguably not lost a single round to anybody other than Usman since 2015 – the champion showed incredible toughness to outlast his outspoken opponent for a technical knockout in the first fight, before completely dominating the rematch to close that chapter.
Completing his championship resume is his knockout victory against Brazilian jiu-jitsu world champion Gilbert Burns, who figured to be too good of a grappler to be manhandled by Usman, so he instead unveiled his new and improved jab to pummel the challenger to a third-round stoppage.
To this point of his championship reign, Usman has fought specialists, and has passed every test with flying colours – so what happens against a supreme jack of all trades like Edwards?
His British opponent is undefeated in the past seven years, with Edwards' last loss coming against the very champion he is looking to dethrone, going down to Usman via unanimous decision in December 2015.
Why should anything be different this time around? Well, while Usman was a 28-year-old imposing physical specimen in 2015, Edwards was a raw 24-year-old less than a year removed from a split-decision loss to journeyman Claudio Silva.
Usman had grown up as a wrestler, competing his entire life in the sport, culminating in a 44-1 record and a division two national championship as a senior in college before deciding to pivot to mixed martial arts.
Edwards grew up in Birmingham, after moving from Jamaica at nine years old, with no real grappling background, and at such an early stage in his career, he was unequipped to handle the smothering physical presence which Usman presented.
Seven years later, Edwards is a completely different fighter, with some of the sharpest kickboxing in the division, as well as a terrific pressure-grappling game.
Among active UFC welterweights, Edwards absorbs the second-fewest strikes per minute at 2.15, trailing only Michael Chiesa (0.79) who has since moved down to lightweight. He also finds himself in the top-10 for total grappling control time and takedowns landed.
It creates an interesting dynamic, as not only has Edwards become someone nearly impossible to control in the grappling side of things, but he is also an expert in point-fighting on the feet, while being extremely durable.
Despite this being his first title fight, Edwards has an average fight time of 15 minutes and 15 seconds – which is notable considering all non-main events only last 15 minutes. It shows he thrives in long, grinding fights, which he is sure to be faced with against Usman.
It poses the question: What is Usman's game plan?
Against another terrific controlling grappler – Covington – Usman was able to rely on his below-average striking and turn it into a kickboxing match since Covington's striking was also so weak.
Usman's striking has improved significantly, but he will not have an advantage in that area against Edwards, and while Usman is seemingly impossible to finish with strikes, Edwards has shown repeatedly that he is more than happy to point-fight his way to a decision.
So what happens if Usman's first few takedown attempts are unsuccessful, and this turns into a rangy kickboxing battle?
Does he continue to try and grapple and clinch, pushing Edwards against the cage, using his physicality, or does he try to test out his developing striking skills? If he opts for the latter, he could find himself down a round or two against a fighter who will not slow down, and who has been planning for this rematch for seven years.
Knockouts can be addicting, and after three consecutive eye-opening striking performances from Usman, who has been working with world-famous striking coach Trevor Wittman for two years now, his hubris in his standup abilities could prove to be his fatal flaw against an opponent so skilled in avoiding damage on the feet.
Usman is the deserved favourite, the current pound-for-pound king and the most dominant champion in the male divisions.
But to beat such an established minute-winner in what is almost assured to be a 25-minute decision, Usman must avoid his own ego and steer clear of the striking exchanges that have defined his evolution as a champion.
Tags