US PGA Championship: Rahm believes Alcaraz has 'big shoes to fill'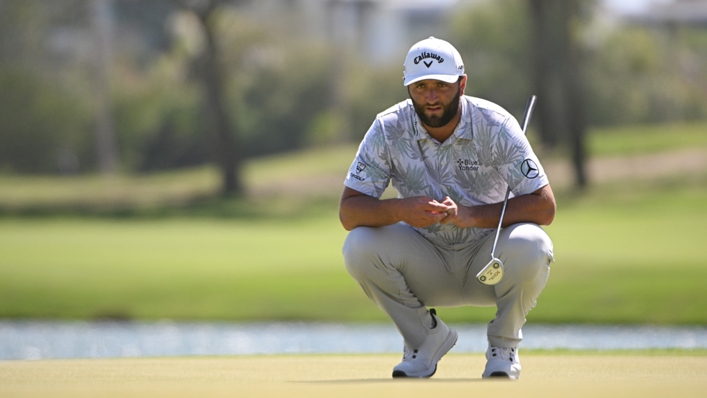 Golf's world number two, Jon Rahm, believes teenage compatriot Carlos Alcaraz can benefit from having Rafael Nadal around as his burgeoning tennis career progresses.
Nineteen-year-old Spaniard Alcaraz became the first tennis player to beat both Nadal and Novak Djokovic in the same tournament on clay, on his way to becoming the youngest ever winner at the Madrid Open earlier in May.
Alcaraz has won three of the past four tournaments he has entered, including the Miami Open, moving to number six in the ATP world rankings and emerging as a serious challenger for the French Open, which starts on Sunday.
When asked about Alcaraz's rapid ascent, Rahm said Alcaraz can still learn a lot from 21-time grand slam winner Nadal.
"I thought you were talking about a golfer. I was just confused," Rahm joked, speaking ahead of this week's US PGA Championship. "I've heard about what he's done, and I've seen the results. Pretty impressive, especially in the world of tennis.
"He's got some big shoes to fill, because historically Spain has had great tennis players, and obviously with Rafa out there it can be probably daunting yet really exciting too for somebody like him.
"You have a great reference who's done it right in front of you, so I'm sure he can pick his brain and learn. He's got a great start. Hopefully he can keep it going and be a great champion like many others have been."
Following a tie for 27th at the Masters, Rahm returned to action earlier in May, winning the Mexico Open.
The lingering dynamic this weekend at Southern Hills will be the fact Phil Mickelson will not be there to defend his title, following his controversial remarks about the Saudi-backed breakaway golf tour.
Rahm and Mickelson share the same alma mater and agency, and the former continued to defend the six-time major winner.
"Phil has got to do what Phil has got to do," Rahm said. "He's a good friend of mine. I can't remember the last time a major champion didn't defend a title.
"But he's got to do what's best for him. That's all I can say. I can't say it makes me unhappy. As long as he's doing what is best for him, I can't truly say I'm unhappy.
"I would have liked to see him defend. I know he's played good here in the past. But again, he's got to do what he's got to do."