The second Major of the 2021 golf season tees off on Thursday as 155 players head to South Carolina for the US PGA Championship.
Kiawah Island's Ocean Course plays host to this year's edition — last doing so back in 2012 when a young Rory McIlroy destroyed the competition en route to a ruthless eight-shot victory.
But can McIlroy repeat the feat nine years later? What kind of players are likely to thrive at Kiawah? What have we learned from recent events? Is a new star about to emerge?
Coastal challenge
It is called the Ocean Course for good reason.
This week's venue has been carved out across a glorious stretch of America's East Coast, with the Atlantic Ocean providing one of the game's most beautiful backdrops.
It was that natural beauty that appealed so much to the late, great Pete Dye, who hand-crafted the course specifically to host a legendary 1991 Ryder Cup that would go down in the game's folklore as the fiercely competed 'War on the Shore'.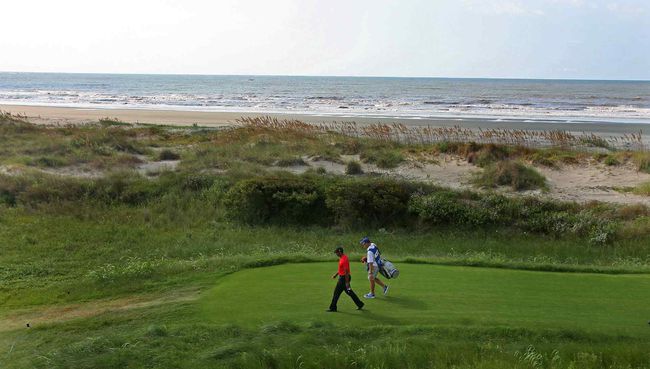 Sea views come with unique challenges and few courses on the planet are more exposed to the elements than this raised track, meaning efficient wind play is a near-mandatory requirement.
Whether this week's field will face Kiawah at its toughest will largely depend on the weather conditions.
Bomber's paradise?
As well as its unique surroundings, Kiawah Island will also offer the field an unprecedented test in terms of sheer distance.
With the official PGA Tour scorecard currently reading a whopping 7,876 yards, this year's event will usurp the 2017 US Open at Erin Hills for the crown of the longest ever Major championship course.
Naturally, that suggests those who club the ball further than their counterparts are at a significant advantage — however, a glance at the leaderboard from 2012 tells a different tale.
In behind the admittedly hard-hitting McIlroy were the likes of David Lynn, Ian Poulter and Steve Stricker, none of whom were regarded as clubbers of the golf ball.
While going long will be a help when conditions are calm, the constant presence of a coastal breeze is likely to act as a real leveller and offer hope to those with a more feel-orientated approach.
Reading the formbook
If recent form is as key a factor as many believe, then former course winner McIlroy arrives as a rightful favourite for repeat success.
The Northern Irishman, 32, snapped an 18-month long winless streak at the Wells Fargo Championship two weeks ago and skipped last week's AT&T Byron Nelson to prepare for this week.
Just like McIlroy, Jordan Spieth is another multiple Major winner who has recently found his way back inside the winner's circle — his Texas Open triumph ending a horrid barren run of over three and a half years.
Meanwhile, two-time US PGA champion Brooks Koepka arrives in very different shape with a knee injury that plagued him during April's Masters still causing issues, as displayed when missing the cut in limp fashion in Texas last week.
There are also doubts over the recent performances of Dustin Johnson and Justin Thomas but they are a duo who can never be discounted lightly given they boast 38 PGA Tour wins between them.
A maiden Major winner?
Traditionally, a player would need to amass a decent amount of Major experience before being considered a contender — yet that has not always been the case at the US PGA Championship.
Collin Morikawa won last year at the first time of asking, as did 2011 winner Keegan Bradley.
So is this week an opportunity for one of golf's rising stars to break their duck in the biggest of events?
Norwegian Viktor Hovland finished T33 in his first US PGA last year but has made great strides in his game in recent months, with a remarkable six top-six finishes in 2021 already under his belt.
New father Jon Rahm, for all his success to date — including World No1 status as recently as last August — is still to land any of the big four and will be desperate to get that monkey off his back as quickly as possible.
Add the likes of Patrick Cantlay, Xander Schauffele and Daniel Berger to the list and its clear there is no shortage of candidates for a breakthrough Major triumph
The Bryson factor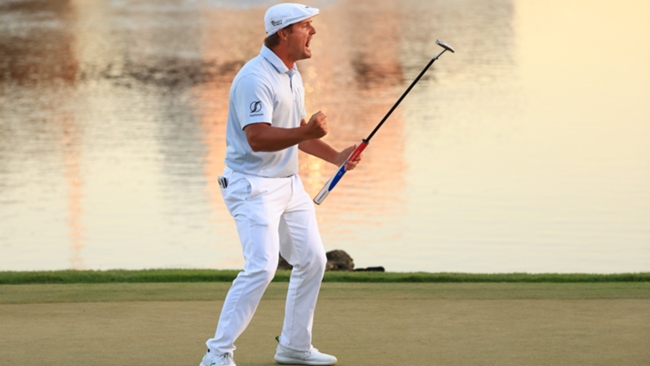 Of course, no modern-day golf Major can be analysed without considering the prospects of the ever-polarising Bryson DeChambeau, who will be licking his lips as he stands on the first tee of the ominous Ocean Course.
With wide fairways and plenty of yardage to be covered, logic suggests the 2020 US Open champion is better equipped than most to lift the Wanamaker Trophy come Sunday evening.
But he arrives in mixed form, having salvaged an impressive ninth place from a poor start at the Wells Fargo Championship before following up with an unusually low-key outing at last week's AT&T Byron Nelson.
Yet speaking after his final round at Quail Hollow, DeChambeau, 27, gave what may prove to be some telling insight ahead of his first trip to this week's venue.
He said: "I like playing courses blind, playing them for the first time — it's a definite advantage for me.
"I don't know why it is but I feel like if I don't know the place, I can make a clearer plan and execute great shots. I'm not sure how to explain it really, but that's definitely how I feel."
South Carolina, watch out.