US Open: Alcaraz savouring New York big stage
John Skilbeck
Stats Perform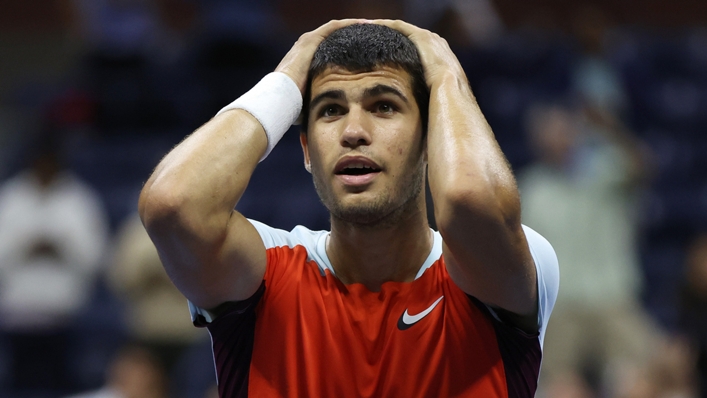 Carlos Alcaraz believes New York provides a perfect stage for the first grand slam semi-final of his career after the Spanish teenager edged a late-night thriller with Jannik Sinner.
In the last of the men's singles quarter-finals at Flushing Meadows, Alcaraz prevailed in the latest finish on record at the tournament, sealing a 6-3 6-7 (7-9) 6-7 (0-7) 7-5 6-3 victory at 02:50 local time on Thursday.
Sinner was left crestfallen, saying the defeat was in his "top list" and would hurt "for quite a while". He had served for the match in the fourth set but could not see it out, the 21-year-old seeing Alcaraz exact revenge for defeat in the fourth round at Wimbledon.
At the age of 19, Alcaraz is leading the men's tour for wins this season, one short of reaching 50 for the year, and the Arthur Ashe Stadium crowds have taken him to their hearts.
He is the youngest men's grand slam singles semi-finalist since Rafael Nadal marched to the 2005 French Open title, and the youngest man to reach the last four at the US Open since Pete Sampras in 1990, also on a run to the trophy.
The clash with Sinner was an epic that spanned five hours and 15 minutes, yet Alcaraz said afterwards: "During the whole match, I feel great physically.
"I feel great to be in my first semi-final in a grand slam. I feel better reaching the semi-final here in the US Open. This tournament is amazing. The crowd is amazing, I would say the best in the world.
"The energy I receive in this court at 3am, it was unbelievable. Probably in other tournaments, other places, everybody would have gone to their house to rest. But they keep in the court, supporting me. It was unbelievable.
"I feel great to have a semi-final here in the US Open."
Frances Tiafoe awaits him, after the American took down Andrey Rublev in straight sets on Wednesday, following up his fourth-round win over Rafael Nadal with another accomplished display. The crowd will likely have split allegiances for that semi-final on Friday.
"It's going to be really, really tough," said Alcaraz. "Everybody knows the level of Frances. He has beaten Rafa Nadal, Rublev in three sets. He's playing unbelievable right now, high in confidence.
"He loves the crowd. He loves this court. I'm going to have to play my best. But right now I'm thinking about this match. I'm enjoying this moment. I have a day of rest to think about the semi-final."
Alcaraz also said the possibility of becoming world number one did not cross his mind during the Sinner battle. He would hit the top spot by winning the title, and would also be assured of number one by reaching the final if Casper Ruud loses to Karen Khachanov in the other semi-final.
Sinner can only dream of reaching such heights for now, although his time may come.
He has a 9-20 losing record against top-10 opponents after this setback, but wins over Alcaraz at Wimbledon and later at a smaller event in Umag, Croatia, suggest his game is developing nicely.
The Italian had a strong tournament in New York but was left with regrets after failing to see this one through.
"I've had some tough losses, for sure. This is in the top list," Sinner said. "I think this one will hurt for quite a while.
"But tomorrow I wake up, or today I wake up, trying to somehow take only the positives, trying to take away the other part.
"But it's tough, for sure. In my next tournament I will play Davis Cup. Before, I want to practise again in the best possible way, trying to improve. Maybe next time I can win this, no?"