UFC 278: Edwards calls out doubters after stunning head-kick KO victory over Usman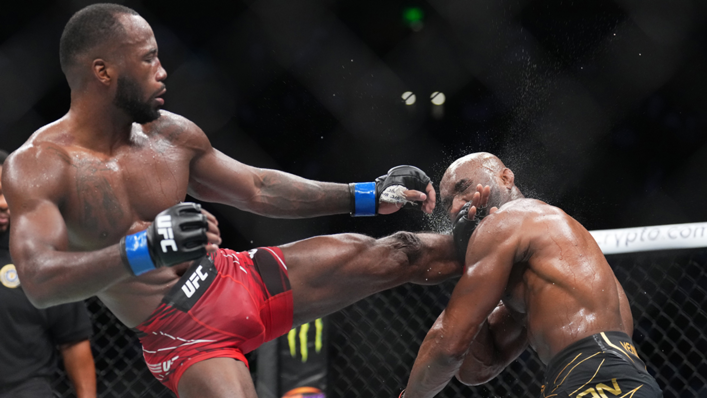 Leon Edwards called out the doubters after shocking the MMA world with a final-round head kick to knock out Kamaru Usman to claim the welterweight title at UFC 278 on Saturday.
Usman seemed destined for victory and a sixth title defence after dominating from the early stages but Edwards' left-foot kick knocked out the 35-year-old Nigerian with less than a minute remaining in the fifth round.
Edwards' kick caught Usman flush, appearing to knock him out on contact and stun the 17,000-strong crowd in Salt Lake City.
Jamaica-born Edwards leapt out of the octagon in celebration as Usman, whom many considered the pound-for-pound best fighter in the world, lay on the ground beaten.
"You all doubted me, said I couldn't do it," Edwards said. "They all said I couldn't do it.
"Look at me now. Look at me now. Pound-for-pound one."
The head-kick KO ended Edwards' 15-fight UFC winning streak, falling short of Anderson Silva's UFC record.
The two had faced off previously in December 2015, with Usman triumphant by unanimous decision.
Paulo Costa got the better of Luke Rockhold in an epic, winning by unanimous decision, 30-27 30-27 30-27, to put himself back in title middleweight contention.
Rockhold seemed fatigued after the first round with the Brazilian scoring the first takedown and delivered a barrage of body shots on the ground.
The American had a moment in the second round, landing a roundhouse kick on Costa, but the Brazilian hit back with a big body kick late in the round after a timeout following a low blow.
Despite Costa's dominance, Rockhold gallantly fought on and landed a few shots but the Brazilian would not relent, capitalizing on a sloppy takedown attempt to close it out.
UFC legend Jose Aldo was outclassed by Merab Dvalishvili who claimed a unanimous decision victory, 29-28, 29-28 30-27.
Fast-rising bantamweight contender Dvalishvili was unable to get Aldo on the ground where he wanted him but outworked him for the win.
Tags