Tyson will get the beers in if Ngannou brings the Fury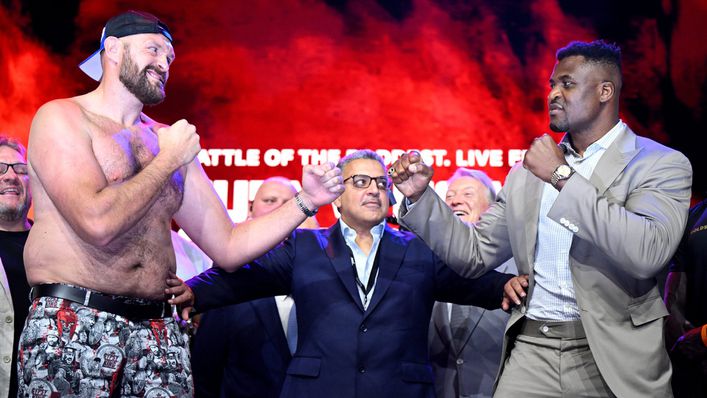 Tyson Fury has told Francis Ngannou the drinks are on him if the MMA star knocks him next month.
Former UFC heavyweight champion Ngannou, 37, is switching sports to take on WBC kingpin Fury in a 10-round boxing bout in Riyadh, Saudi Arabia, on October 28.
Squaring off at the London launch event for the showdown, there was plenty of mutual respect between the two fighters — with Fury assuring his opponent he would take a shock defeat gracefully.
The undefeated Gypsy King, 35, said: "I will give Francis the respsect he deserves. One as a warrior, two as a man and three as the world champion he is.
"He's very powerful and it's in my best interests to take him very seriously. I only trained six weeks for Deontay Wilder. I'm training 12 weeks for Francis.
"If it's anything less than a 10-round war, I'm going to be disappointed. I'm expecting a fight.
"If you can knock me out, I'll walk across the ring, shake your hand and buy you a beer — non-alcoholic, of course."
Hit the target
Ngannou carries a fierce reputation for his punch power, which has previously been measured at 96 horsepower — the equivalent of being hit by a Ford Escort.
Yet the underdog, who is being trained by sweet science legend Mike Tyson, knows it will be tough to land a haymaker on one of the most elusive boxers around.
He said: "We are working on the delivery system.
"If you've been watching my training, you'll see we have one of the best guys to ever do this in my camp in Mike.
"If you're talking about delivery system, you can't go any bigger than that. It's a very important element in this fight.
"I hear people saying, 'He's big puncher, he punches hard'. But if you can't land your punch, it's worthless.
"I'm going to be hunting this guy's head and trying to take it off."
Fury added: "The guy's a big puncher but I've fought big punchers before. Wilder, Wladimir Klitschko.
"They were both massive punchers but they couldn't land when it counted. You can't hit what you can't see and I'm not the best at what I do because I'm easy to hit.
"I don't think anyone can land it on me — and if they do, I just get back up!"