Fury out to 'obliterate' Wilder as both men weigh in at career highs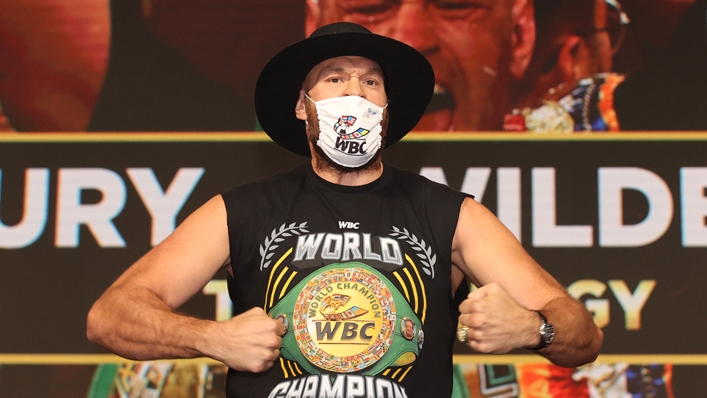 Tyson Fury has vowed to "obliterate" Deontay Wilder when he puts his WBC world heavyweight title on the line in Saturday's trilogy fight at the T-Mobile Arena.
The 33-year-old looked in tremendous condition at Friday's weigh-in as he tipped the scales at 277lb — four pounds heavier than he was in his most recent meeting with Wilder 20 months ago.
Wilder is also at a career-high weight of 238lb, an increase of seven pounds, but Fury does not believe he will have any problems stopping his American opponent for a second time in a row.
Asked what the advantage is of coming in heavier this time around, Fury said: "It means total obliteration of a dosser! Total annihilation. That is what it means to me.
"I am going to put him in the royal infirmary after the fight."
The 39lb difference between the two is the closest across their three fights.
"I wanted to look tasty and feel sexy," Wilder said of his physique. "I am bench pressing over 350lb so I will be able to lift him.
"We just wanted to have fun in camp, we had a great time. The say you practice for perfect, we practiced for permanent.
"Calmness is the key to the storm. I know when I am not calm my mind is cloudy, when my mind is cloudy it allows you to make bad decisions.
"When you are calm you are able to make great decisions. I have rejuvenated myself, redemption is upon us and I can't wait to show the world what I am all about."
This will be the third chapter in a heavyweight rivalry that has produced plenty of drama in the past, both in and out of the ring.
After a contentious split-decision draw in the first meeting back in December 2018, the rematch saw Fury take the judges out of the equation with a dominant performance, forcing a seventh-round stoppage that not only saw Wilder lose the WBC title but also his unbeaten record as a pro.
The trilogy was not seemingly on the cards — or at least not this soon — until the outcome of an arbitration hearing, a judge ruling the reigning champion was contractually obliged to face his former foe again, ending the possibility of a unification showdown with Anthony Joshua.
Fury contracting coronavirus led to a further delay, scuppering an original July fight date, but, finally, the stage is set in Las Vegas for the pair to meet again.
For Wilder, this is an opportunity to rebuild his reputation.
He hopes a new man in his corner can help. Malik Scott once lost to his fellow American in the ring, now he is tasked with formulating a plan to get his old foe back on top.
Scott has certainly talked the talk in the build-up, even predicting his fighter gets the job done inside five rounds after working hard to refine his game.
"He got content with knocking people out with one weapon, which was the right hand," Scott said.
"What I did was I went to his toolbox and pulled everything out that he does well. Deontay Wilder can do it all. I just pulled a lot of stuff out of him in training camp. I made sure we drilled him with intent."
The development of Wilder, a power hitter whose boxing skills have always been questioned, is just one of the intriguing plot lines going into a contest that should make for absorbing viewing, whatever the final outcome.
Age: 33
Height: 6ft 9in
Weight: 277lb
Reach: 85in
Professional record: 30-0-1 (21 KOs)
Major career titles: IBF, WBA, WBC, WBO heavyweight
Age: 35
Height: 6ft 7in
Weight: 238lb
Reach: 83in
Professional record: 42-1-1 (41 KOs)
Major career titles: WBC heavyweight