Tuchel confirms Rudiger has asked to leave Chelsea
Patric Ridge
Stats Perform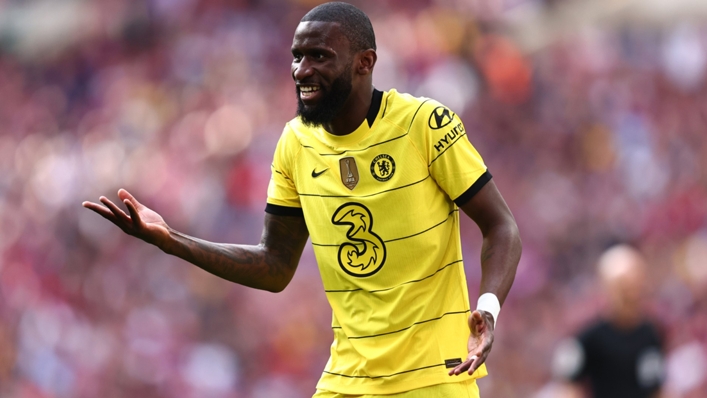 Thomas Tuchel has confirmed that Chelsea will be unable to keep hold of Antonio Rudiger, who has asked to leave the club.
Reports in the media this week claimed that Rudiger – whose contract expires at the end of the season – had turned down the offer of a new deal and had decided to leave for pastures new.
Tuchel has now revealed those reports were correct. Real Madrid, Juventus and Paris Saint-Germain are among the clubs said to have an interest in the centre-back.
And, due to the sanctions imposed on Chelsea owner Roman Abramovich by the United Kingdom government in the wake of Russia's invasion of Ukraine, Tuchel explained that the club have been unable to up their offer.
Rudiger sat out Chelsea's 1-0 win over West Ham on Sunday due to injury and after the match, Tuchel told Sky Sports: "The situation is that he wants to leave the club. He informed me of this in a private talk.
"We gave everything – me and the club – but we could not fight anymore because of the sanctions. Without the sanctions, we would at least be able to carry on fighting, but our hands are tied. We don't take it personally. It is his decision.
"He is a key figure and will stay that way until the end of the season. But it is disappointing. We will miss him a lot.
"He gives courage in the dressing room. The kind everyone is afraid of, but the kind to play 50-55 games at an outstanding level. He [has been] a top defender in the last one and a half years for me. We then need to find another solution."
Christian Pulisic's last-minute strike snatched a victory for Chelsea against West Ham, as they snapped a two-game losing streak at Stamford Bridge.
It was another below-par performance from the Blues, however, with Jorginho seeing a terrible penalty saved just before Pulisic scored the winner.
"It feels like a giant step. We have some games in hand. It was necessary and I am glad," said Tuchel, whose side are now five points clear of fourth-placed Arsenal, with a trip to Old Trafford coming up on Thursday.
"The atmosphere is like this in the dressing room. We also deserved a bit of luck after the last results and how they were created here in our stadium.
"A big game now coming in Manchester. A good feeling with a late win. It lifts everybody's mood."
Jorginho had converted each of his last 13 penalties for Chelsea (excluding in shoot-outs), with this being his first failure to score from the spot for the Blues since Boxing Day 2020 versus Arsenal, though got his attempt all wrong this time around.
"It works for us normally 100 per cent," said Tuchel. "It can happen. Hopefully, it is an unusual thing. He is disappointed but happy we could turn it around."
Tags