Tuchel: Chelsea were slow, tired and lacking freedom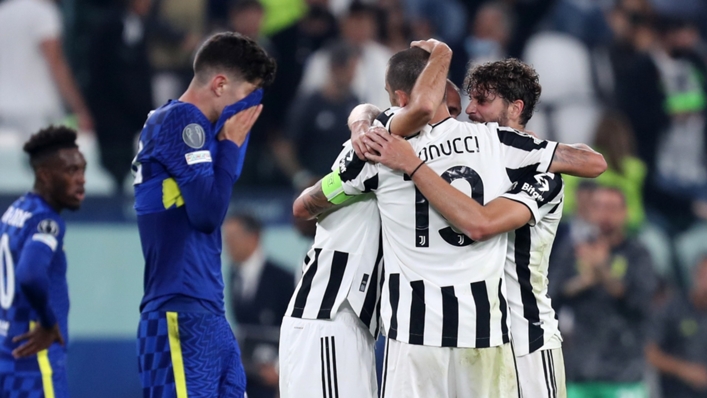 Chelsea looked slow, tired and lacked freedom in their defeat to Juventus on Wednesday, according to Thomas Tuchel.
Despite having over 70 per cent possession, the Champions League holders went down 1-0 to Juve after Federico Chiesa scored the 10 seconds into the second half at Allianz Stadium.
It was the earliest second-half Champions League goal in Opta records and made Chiesa the first Italian to score in four successive starts in the competition for Juve since club legend Alessandro Del Piero in 1997.
The Blues managed just one shot on target – a tame first-half attempt from Romelu Lukaku – across a disappointing defeat that gave Massimiliano Allegri's side the upper hand in Group H.
"Of course, it is impossible at this kind of level to concede a goal like this in the first seconds of the second half. When you know what's coming and you have defensive organisation like we had, it's normally at all times possible to defend it. We got punished for it," Tuchel told BT Sport.
"I think we started not sharp enough. We had possession but in the first 12-15 minutes we could have harmed them much more, we could have been much sharper and putting the rhythm up high.
"There were so many spaces, we could've put many more dangerous balls into their box and asked more dangerous questions. We had a lot of ball possession, we had many high recoveries.
"We had two crucial ball losses where we almost gave goals away. You cannot have this in this level – it was without any pressure.
"We struggled to create our own rhythm because they were so deep and passive. We struggled to find our intensity. it's not an easy thing to do to find the spaces, to know exactly where to accelerate and maybe accept ball losses but only in the last 20 metres. But we were lacking runs behind the last line.
"We were so good yesterday in training and not good enough, not free enough today. I don't know why. It was a thing for the whole team. I felt us a bit slow, tired, mentally slow for decision-making. It's a strange one to analyse."
Chelsea have now lost each of their past five away Champions League games against Italian sides and suffered successive defeats in all competitions for just the second time during Tuchel's tenure.
Juve appear to have finally turned a corner since Allegri's return, meanwhile. They are 10th in Serie A but now sit three points clear at the top of Group H and have won four of their past five matches.
"Sailors always find their way out when they are in a storm," Allegri said to Prime Video.
"It was a good match against the European champions. Technically, we could have played better, but we did not suffer a lot and missed a couple of counter-attacks.
"Two games, six points, zero goals conceded. It's another step towards qualification – a good step forwards."
Tags