Tagovailoa returns to Dolphins practice ahead of London trip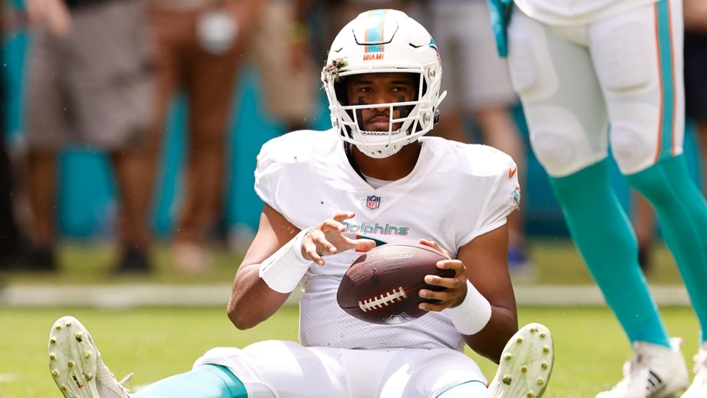 The Miami Dolphins could have Tua Tagovailoa back for Sunday's NFL London game against the Jacksonville Jaguars after the quarterback returned to practice on Wednesday.
Second-year QB Tagovailoa has been out since fracturing his ribs in the Week 2 shutout loss to the Buffalo Bills.
Tagovailoa had led the Dolphins to an opening win against the New England Patriots, yet the team are now a miserable 1-4.
The imminent return of the former Alabama star represents a boost, although Brian Flores may be reluctant to throw him straight back in behind an offensive line that has given up 98 pressures this season – tied for third in the NFL.
That includes 31 QB hits, one of which from the Bills' A.J. Epenesa put Tagovailoa out in the first place.
"We're excited to get him back. I know he's excited to be out there," Flores said. "We'll take it one day at a time, still.
"We're moving enough in the right direction that he'll be out there. He'll have the opportunity to practice and hopefully play in the game."
The coach added: "This is really just let's [see] how this goes in practice. Can he make the throws? Can he roll to his left, roll to his right, step up in the pocket?
"The one thing we won't know is just taking a hit. We won't know that until the game. I think we'll try to do as much as we can to get a feel for what that'll look like or what that'll feel like without having a setback obviously.
"So I'd say this: he's a tough kid."
Tagovailoa is going to have to show improvement if he is to lift spirits on his return, though.
His rookie season ended with a painful Week 17 defeat to Buffalo, in which he threw three interceptions, and his early form this year was far from convincing.
Tagovailoa has tossed a well-thrown, accurate ball on just 63.3 per cent of his attempts – the worst rate of any player with 10 or more attempts – and his pickable pass rate of 6.67 per cent betters only this underwhelming group: Davis Mills, Geno Smith, Zach Wilson and Mike Glennon.
Miami will face winless Jacksonville at Tottenham Hotspur Stadium, a venue that last week hosted the Atlanta Falcons' victory over the New York Jets.