Trossard delighted with fast start to Arsenal career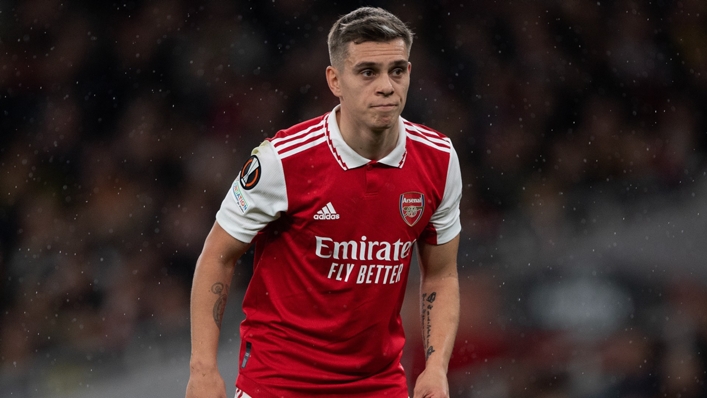 Leandro Trossard is delighted by his fast start in an Arsenal shirt and is optimistic of his new club's chances of winning the Premier League.
Trossard was a January signing for Mikel Arteta's side after the Belgium forward impressed in the first half of the season at Brighton and Hove Albion, scoring seven goals in 16 league games.
Since joining the league leaders, Trossard has only scored once but provided six assists in just 10 league games to help Arsenal rebuild an eight-point gap to Manchester City in second.
And the former Brighton has been surprised at how quickly he has settled.
"I maybe didn't expect to make that many minutes, but injuries helped me a bit. I'm however more than convinced of my own capabilities," Trossard said, speaking at a national team press conference on Wednesday.
"I arrived in a great group, filled with great players. That also makes it easier for new players to adapt and reach their levels.
"It was a very busy and weird period for me, but I'm very happy that I have been able to join Arsenal. I think it's been a great step for me.
"We all know how difficult it is to win the league, looking at Man City and Liverpool in recent years, but I think we have a great squad and that we have proven time and time again that we're doing well.
"There are 10 matches left, we'll see where we end once the season finishes."
The 28-year-old is set to feature heavily for Belgium after the retirement of fellow forward and former captain Eden Hazard.
City's Kevin De Bruyne has taken the armband, and Trossard is confident the midfielder and new head coach Domenico Tedesco will prove the difference as Belgium look to rally following their group-stage exit at the 2022 World Cup.
"[De Bruyne] has a lot of experience at the highest level," Trossard said. "He knows everybody here, since he's been here for a while already.
"A lot of the younger guys look up to him – I think that's a really big advantage for a national team captain if people look up to you.
"We have a new manager, a new staff, and I'm excited to make this new start as well.
"We're looking sharp, everybody wants to prove themselves. We also have a lot of youngsters, there's a lot of renewed competition, and it's clear everybody wants to give it their all."
Tags