Transfer Talk: Spurs making all the right moves with Samba star Richarlison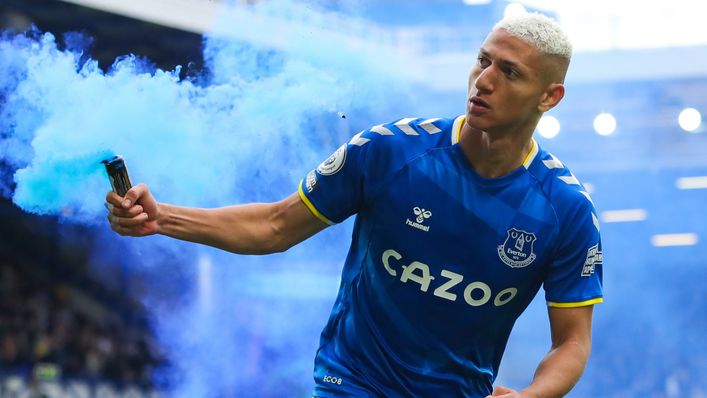 Richarlison has been heavily linked with a move to Tottenham this summer, with Everton reportedly demanding a fee in the region of £55million for his services.
Antonio Conte's outfit sensationally clinched fourth spot last season and with the likes of Manchester City, Liverpool and Arsenal bolstering their attack, the Italian coach must ensure he strengthens his squad to keep pace.
The Brazilian is a favourite at Goodison Park and bagged 10 league goals last term as the Merseysiders survived relegation by the skin of their teeth.
We take a look at why Spurs are after him and how the marksman will fit.
Rich rewards
If Spurs manage to lure Richarlison to North London, they will be getting a lot more than just goals.
The 36-cap international is a unique player that possesses qualities that many do not — he plays with hunger, tenacity and is a huge character who leaves everything on the pitch.
Having started on the left flank at times, his heat map from last season (below) highlights the large areas of the pitch that he covers due to his immense work-rate.
Richarlison is quick and agile and has great balance, with the ability to shift on to his weaker left side comfortably and tends to peel out wide in transitions, playing to his strengths.
His movement off the ball is impressive and he presses opposition defences particularly well, certainly not afraid to throw himself into a tackle, while his physical nature adds an aerial threat having netted 14 headed goals for the Toffees.
He has embraced his Brazilian flair with jaw-dropping moments of skill and improvisation, as seen most emphatically in his bicycle kick against Norwich last season.
The former Watford man's aggressiveness and strong mentality, helping Everton survive the scare of Championship football with six goals in his last nine games, makes him a match made in heaven for Conte's system.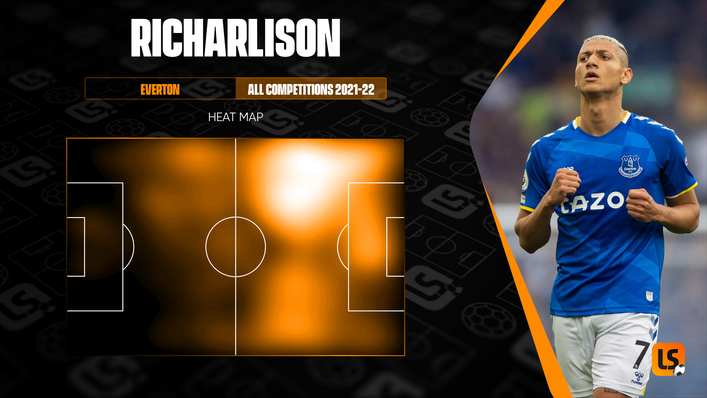 Big move awaits
Tottenham have ramped up their interest in Richarlison after being linked with the forward for the past month.
If the Lilywhites manage to secure his signature, he will provide valuable depth in a position in which they have not been able to find a suitable back-up for Harry Kane.
Spurs have unsurprisingly been over-reliant on Kane in recent years, with Heung-Min Son often required to fill in up top when the England captain is sidelined.
The arrival of Richarlison would mean that he can occupy Kane's position if needed so Son can stay out wide, or play off the flanks and provide rotation for Son on the left or Dejan Kulusevski on the right.
At international level, Richarlison has also proven a valuable forward option to coach Tite, netting four goals in his last four appearances.
Game time will be a concern for the Selecao star as the World Cup approaches, but Richarlison will feel that playing in the Champions League will increase his chances of selection, despite having to fight for a starting spot under Conte.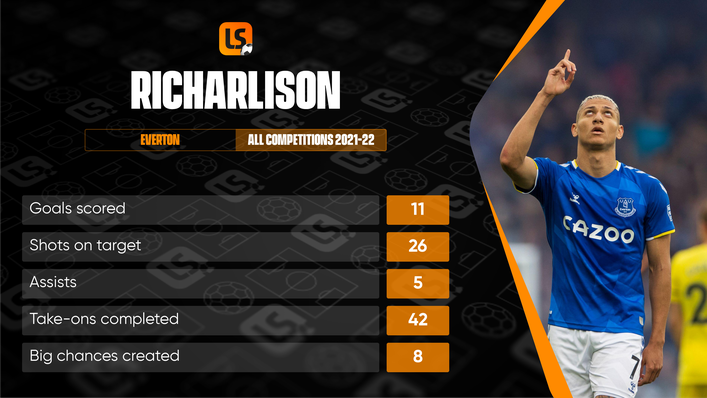 Balance is key
Spurs are also reportedly looking to bring in Richarlison's team-mate Anthony Gordon as part of a package deal that could see Harry Winks move in the opposite direction.
It is clear the North Londoners are looking to build a balanced squad, bringing in the experienced Ivan Perisic and Fraser Forster already, alongside the burgeoning midfield talent of Yves Bissouma.
Richarlison fits the mould of a Conte player and is at a similar stage of his career to Bissouma — both aged 25 and already having plenty of Premier League experience under their belts.
With the Brazilian being one of their top targets, it illustrates how Conte is continuing to transform his Spurs side into a physical machine, which will make them tough to beat next season.
Tags