Christian Eriksen is in the final stages of agreeing a six-month deal with West London side Brentford.
The Dane's contract with Inter Milan was terminated last month after he had a device implanted to help deal with heart issues that is banned by Serie A regulations.
Brentford's Eriksen links could not have come at a better time during a mid-season drought that has seen the Bees dragged into a relegation battle.
We take a look at how the playmaker could boost Thomas Frank's side.
Assist king Eriksen
Despite impressing in recent performances against Manchester City and Manchester United, Brentford have lost six of their last seven league encounters.
They travel to Everton for their FA Cup fourth-round tie following the winter break, before tricky tests against City, Crystal Palace and Arsenal.
Strikers Ivan Toney and Bryan Mbeumo have managed just nine Premier League goals between them this season and are in desperate need of better service if they are to fire their side up the table.
In seven seasons at Tottenham, Eriksen scored 51 times and chipped in with 62 assists in 226 league appearances.
Frank's Bees once fielded a fearsome trio of Ollie Watkins, Said Benrahma and Mbuemo. Adding the ex-Inter maestro to their ranks could give the firepower to reignite their attacking options.
Eriksen, 29, would also bring experience of playing at the highest level that is lacking in a team competing in the Premier League for the first time.
Great Danes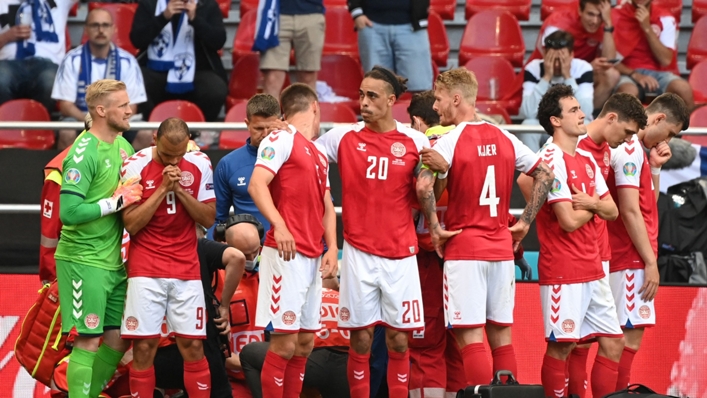 Eriksen will join his international team-mates Christian Norgaard and Mathias Jensen should a deal go though.
The Denmark connection continues with boss Frank which would help the attacking midfielder, who has been training with former club Ajax in a bid to get fit, settle in the capital.
Brentford owner Matthew Benham is the chairman of Danish outfit FC Midtjylland, where he has applied his Moneyball principles to great effect.
Signing a player of Eriksen's calibre on a free in a low-risk six-month deal would represent great value for money in keeping with the club's philosophy.
Heart 'not an obstacle'
Eriksen has not played a professional game since collapsing on the field while playing for Denmark against Finland at Euro 2020 in scenes that shocked the footballing world.
After having his life saved by medics, he was fitted with an implantable cardioverter defibrillator (ICD) to help manage his heart and will need to be cleared by a specialist before making his return.
Eriksen has insisted his health is "not an obstacle" to getting back on the field and ex-Manchester United star Daley Blind, who has also been fitted with an ICD, echoed his comments.
He said: "When this happened to me, the whole world was telling me I was finished as a player, that I would not be able to play again.
"Look where I am today. This is why I say to everyone, 'Leave Christian alone!'"
Eriksen has plenty left in the tank and his determination to prove his doubters wrong and force his way into the Denmark squad for Qatar 2022 will be all the motivation he needs in his comeback bid.
That energy could prove to be the shot in the arm Brentford need to maintain their Premier League status.