Toure urges Arsenal to hand Saka 10-year deal
Peter Thompson
Stats Perform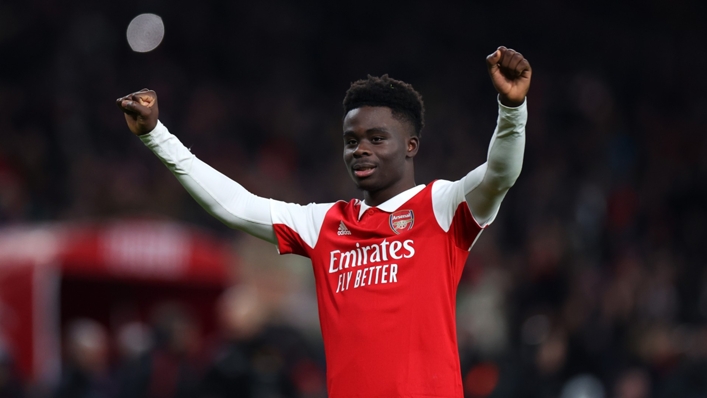 Kolo Toure has urged Arsenal to learn from past mistakes and hand Bukayo Saka a 10-year contract.
Saka is playing a big part in the Gunners' quest to win the Premier League title, scoring 12 goals and providing 10 assists in the top flight this season.
The winger also made his mark for England in the World Cup in Qatar last year, finding the back of the net three times and posing a huge threat.
Saka is only under contract with the Premier League leaders until the end of next season, but is reportedly on the verge of signing a new deal.
Former Arsenal centre-back Toure wants Saka to be tied down for a decade.
He told Sky Sports News: "One thing I have to say - my advice to Arsenal is for Bukayo Saka to sign for 10 years!
"One mistake that Arsenal made down the years, they had key players that loved the club and they let them go.
"You must keep those players because these players are the players that are going to lead the team for you.
"These are the players you can rely on; these are the players that when it's tough they will put their bodies on the line because they love the club.
"You have two types of players, players that love the club and players who just come and go. You need players who love the club because these are players who are going to fight with their heart."
Toure also expressed his admiration for Arsenal head coach Mikel Arteta but warned the leaders must maintain the high standards they have set in order to fend off Manchester City in the title race.
"He's (Arteta) been incredible. What he is doing as a young manager is inspiring us. You can see the energy he is bringing," Toure, who was sacked by Wigan Athletic in January after a short spell in charge, said.
"He was really lucky to work with one of the best managers in the world in Pep Guardiola - learning from him was vital.
"But with Man City, they have the experience and Arsenal have to be really careful they don't slip because this Man City team will give everything they have until the last game."
Tags