Wolff unhappy as crane lifts Hamilton's stricken car off Monaco track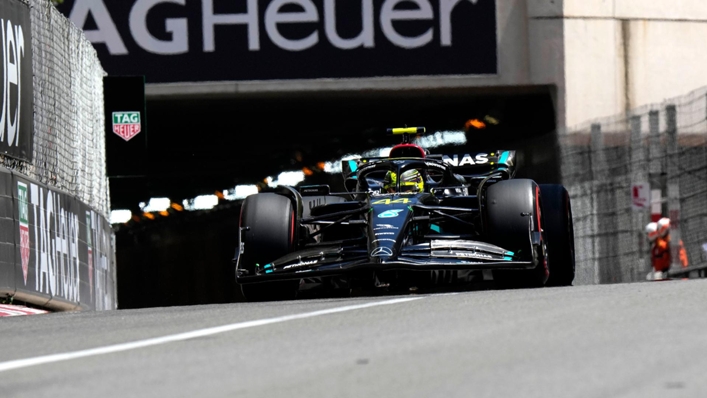 Mercedes boss Toto Wolff suggested marshals had turned the Monaco Grand Prix into a circus act following their unusual removal of Lewis Hamilton's car.
Hamilton crashed out of final practice on Saturday after he lost control of his Mercedes under braking at Mirabeau.
Hamilton's stricken machine was hoisted high into the air by a crane, allowing photographers to capture the underbelly of the seven-time world champion's upgraded machine.
The car's floor is a heavily guarded secret in Formula One, but Mercedes' new design – which broke cover for the first time here in the principality – was put on show for their rivals to see.
"Whoever performed the crane has probably worked for Cirque du Soleil before," said Wolff.
"Honestly, that I don't even comprehend. The car was on the road. You could have put it on a truck. You're showcasing a car to everyone in the world. That was suboptimal for us, to say the least."
Wolff added: "We should not thrash the stewards. Everybody is doing their best and I don't want to be a team principal that lashes out at stewards who are doing their job."
After giving up on this season's car on the eve of the opening race in Bahrain, Mercedes have spent the ensuing dozen weeks working on a new design philosophy.
The Silver Arrows have abandoned their controversial zero-sidepod concept and introduced a new front suspension, new floor and cooling system in a drastic change of development on a car which has contributed to the longest losing streak of Hamilton's career.
Mercedes are keen not to draw too many conclusions at this week's unique Monte Carlo configuration – and believe the following round at the well-trodden Circuit de Catalunya venue on the outskirts of Barcelona will present them with a better understanding of where they stand.
Hamilton starts fifth on Sunday following Charles Leclerc's three-place grid penalty. George Russell lines up eighth in the other Mercedes.
"This car is a son of a gun," said Hamilton. "I was pushing so hard and overdriving which is the worst place to be.
"If I underdrive, or I drive the car to its limit, we might not get into the top 10. But the upgrades were good this weekend, so I'm grateful for those."