Southgate says Tomori's Scudetto success is 'really good bridge' to England level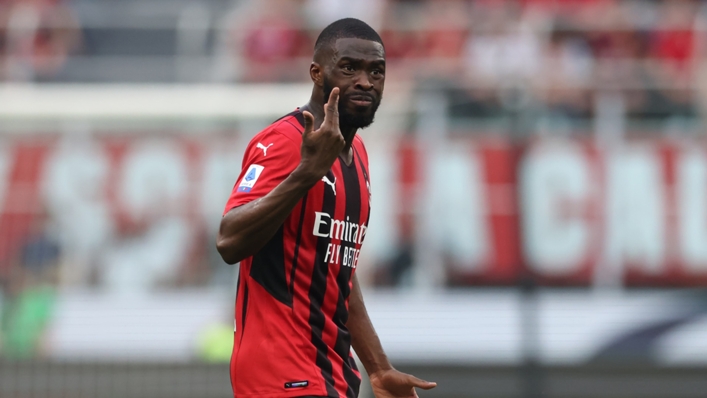 Gareth Southgate believes the rest of Europe's leading leagues face a "jump" to the Premier League, but he has suggested Fikayo Tomori's Serie A title success with Milan represents "a really good bridge".
Tomori has long since been touted as a potential England star, yet he only returned to Southgate's senior set-up on Tuesday after clinching the Scudetto with the Rossoneri.
The former Chelsea man is well established as one of the finest defenders in Italy, although the Three Lions manager suggested this alone was not enough to put him ahead of Premier League rivals.
Southgate has also watched Tammy Abraham play in Serie A this season, with the Roma forward becoming the highest-scoring English player in a single season in the league's history (17 goals – ahead of Gerry Hitchens' 16 for Inter in 1961-62).
This has given Southgate and his coaching staff a greater understanding of the level of play in Italy, but the England boss says it pales next to the "powerful" English game, even if the pressure of a title race has now played in Tomori's favour.
"Firstly, huge credit to both the boys for going and adapting to living abroad, playing a different style of football, the endeavour to learn another language and fit in culturally with the group," Southgate said after announcing his squad for June's Nations League fixtures. "That deserves huge credit.
"We're watching a lot of Serie A, we're watching a lot of the Bundesliga, we were watching a lot of LaLiga when Tripps [Kieran Trippier] was there – the leagues are different levels to the Premier League.
"Milan's defence, if you looked at the defence in the last few months of the season, was very young, with very few international caps right across the back four.
"Inter are very strong; I think, in those leagues, the top two or three teams are very strong.
"But compared to the depth of the Premier League, there isn't the financial clout and so the depth isn't the same. And the intensity of the games is very different – there is a lot more structure, a lot less transitional.
"There is a jump, I think, and I think that's been shown in a lot of the Champions League fixtures and European fixtures.
"Our league is incredibly powerful in terms of its spending power. Some of the smallest teams in our league, with the least financial resource, can compete with some historic European giants. It's a great product we've got.
"So, we're trying to map all of that when we're assessing the players and the levels of their performances – because we watch them week in, week out, really clearly, we're pretty clear on what that is, so we're realistic in our expectations.
"But, of course, Fik in particular comes with the confidence of having just won a league title, playing at Milan in front of 70,000, 80,000 people every week.
"That's a similar sort of pressure to what he's going to have in an England shirt. It's a really good bridge."
Tomori was preferred to a more experienced option like Tottenham's Eric Dier, who is "definitely in our thinking", Southgate said.
"We know him," Southgate explained of Dier's absence, but Leicester City's James Maddison, coming off the best scoring season of his Premier League career (12 goals), was snubbed because he remains behind Mason Mount and Phil Foden in the pecking order.
The England manager still will not rule out any option ahead of the Qatar World Cup, however, adding: "We have September, and I think there's always the possibility that somebody emerges. That's always happened when I've been selecting squads."
Elsewhere, Southgate confirmed he had spoken to Arsenal manager Mikel Arteta before selecting Bukayo Saka, while there were discussions with Liverpool's Champions League finalists Trent Alexander-Arnold and Jordan Henderson.
Alexander-Arnold is involved but will likely only to take part in "the first part of the camp", though Southgate "didn't need to see" Henderson.
Tags