Tiger tells Mickelson the PGA Tour offers 'plenty of money'
John Skilbeck
Stats Perform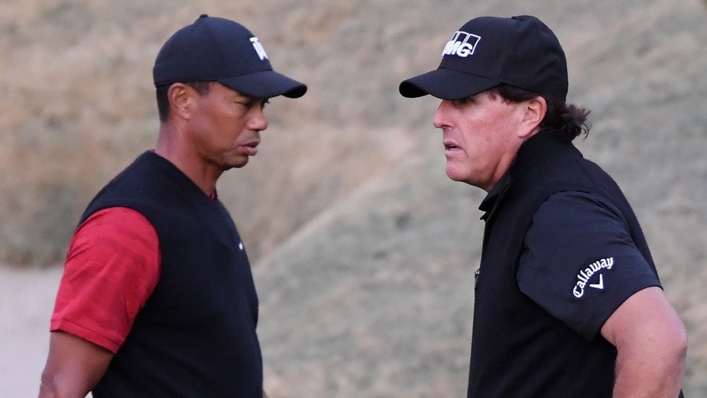 Tiger Woods has decided to leave great rival Phil Mickelson alone with his thoughts after the reigning US PGA Championship winner pulled out of his planned title defence.
Amid a continuing backlash over Mickelson's comments about the Saudi-backed breakaway tour, the 51-year-old has elected to skip this week's major.
Mickelson has not played since February after angering many in the game with his remarks about the Super Golf League – now officially called the LIV Golf Invitational Series.
The veteran American, who became the oldest major winner in history when he triumphed at Kiawah Island last year, said Saudi Arabia has "a horrible record on human rights" but added he was willing to commit to the league as it was "a once-in-a-lifetime opportunity to reshape how the PGA Tour operates".
Mickelson has apologised but missed the Masters and is not ready to return to the PGA Tour yet. He, along with several other golfers, has asked for a release from the PGA Tour to compete in the LIV Golf Invitational Series, which is due to start next month, but those requests have been refused.
Woods was asked about Mickelson in a news conference at Southern Hills, Tulsa, ahead of the US PGA getting under way on Thursday.
"I have not reached out to him. I have not spoken to him," Woods said. "A lot of it has not to do with, I think, personal issues. It was our viewpoints of how the Tour should be run and could be run, and what players are playing for and how we are playing for it. I have a completely different stance.
"I don't know what he's going through. But I know the comments he made about the Tour and the way that it should be run, it could be run; it could be run differently and all the different financials that could have happened, I just have a very different opinion on that. And so no, I have not reached out to him."
Woods said it was "always disappointing" for a major champion to be absent rather than defending a title.
"Phil has said some things that I think a lot of us who are committed to the Tour and committed to the legacy of the Tour have pushed back against, and he's taken some personal time, and we all understand that," Woods said.
"But I think that some of his views on how the Tour could be run, should be run, [there has] been a lot of disagreement there."
Woods described Mickelson's comments about the PGA Tour as "polarising" and pointed to the PGA Tour's long history, as well as its current lucrative events, as reason to show it full support.
The 46-year-old pointed to how Jack Nicklaus and Arnold Palmer had been instrumental in the Tour breaking away from the PGA of America in 1968, creating greater earning potential for the players.
"I just think that what Jack and Arnold have done in starting the Tour and breaking away from the PGA of America and creating our Tour ... I just think there's a legacy to that," Woods said.
"I still think that the Tour has so much to offer, so much opportunity. I believe in legacies. I believe in major championships. I believe in big events, comparisons to historical figures of the past.
"There's plenty of money out here. The Tour is growing. But it's just like any other sport. It's like tennis. You have to go out there and earn it. You've got to go out there and play for it. We have opportunity to go ahead and do it. It's just not guaranteed up front."
Woods, in his second major since returning from injuries sustained in a horrific February 2021 car crash, is feeling increasingly optimistic his body can help his skill set deliver a 16th major championship.
"I feel like I can, definitely. I just have to go out there and do it," he said. "I have to do my work. Starts on Thursday and I'll be ready."