Butler claims Celtics tried to embarrass Heat
Liam Phillips
Stats Perform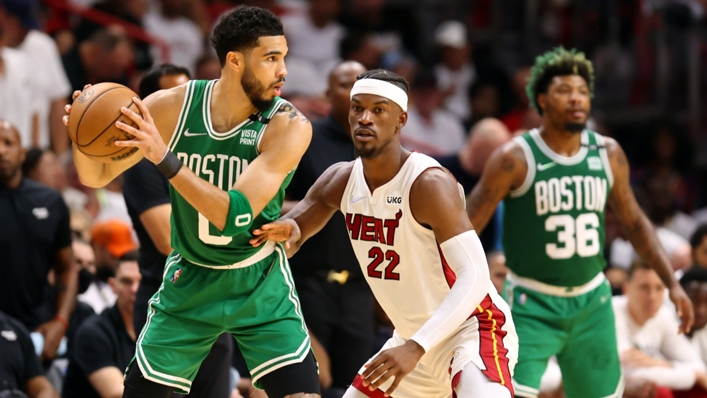 Jimmy Butler said the Boston Celtics "whipped our tail on our home floor" in their 127-102 beatdown of the Miami Heat in Game 2.
The return of Defensive Player of the Year Marcus Smart from a foot injury ignited the Celtics on the offensive end just as much as defensively, with the team hitting a red-hot 20-of-40 from three-point range.
Boston's five that played at least 30 minutes – Jayson Tatum, Jaylen Brown, Grant Williams, Al Horford and Smart – shot 17-of-29 from long-range, and combined for 23 assists, which was two more than Miami had as a team.
Speaking to post-game media, Butler said the Celtics "tried to embarrass us", but pointed out that they were always going to be facing an uphill battle against such an outlier shooting performance.
"You do have to move on, but I don't like to move on from this. It has to hurt," he said.
"They tried to embarrass us – they did embarrass us. I think we got to realise that, or use it as fuel, but realise that the game can get out of hand when you're playing against a really good team like them that can score the ball and get stops.
"They made shots that they missed last game. That's just what it is.
"It's going to be hard to beat anybody when they shoot 50 per cent from the field and 50 per cent from three. They were the more physical team overall, and they got one on the road.
"Overall, we just have to be better. We've got a tough job to do to go over there and win, but if they did it, we can do it as well."
He added: "I look at it as 'it can't get too much worse'. They whipped our tail on our home floor.
"I guess if they do it on their home floor it's supposed to happen, but I don't see us doing that again.
"The first half has been brutal for us in both of these games, we just got to come out and play harder from the jump and be ready, because they be throwing some haymakers in the first half."
Heat coach Erik Spoelstra said he did not feel like his side played poorly – but that it felt like the Celtics wanted revenge for Game 1.
"You definitely have to credit Boston," he said. "It's not just that they came in with great urgency and physicality – they did have that, for sure – they also played well. They played really well on both ends.
"We know what they're capable of defensively – they've done this to some very good offenses. I'm sure they were not happy with us putting up 118 in Game 1, and they came out very disruptive.
"They got us out of our normal rhythm and flow, and the shot-making on the other end was very tough to overcome.
"You get to this point – in the Conference Finals – you just have very good teams. Teams without many weaknesses, it's great competition.
"This only counts as one, and that's what the experiences players and staff in the locker room understand. We don't like it, but they played extremely well."