Mitrovic laments lack of Serbian support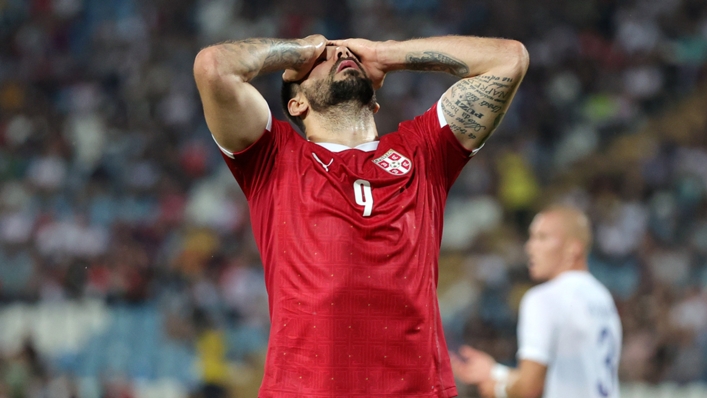 Aleksandar Mitrovic did not rue Serbia's performance following Thursday's 1-0 defeat at home to Norway, but the relative lack of home support.
The Orlovi opened their Nations League campaign going down by a solitary goal at the Stadion Rajko Mitic following Erling Haaland's close-range strike in the 26th minute.
Serbia were unable to manage an equaliser despite a positive second half but in a growing trend for Dragan Stojkovic's side, they had to do it without much in terms of support from the home crowd in Belgrade.
After directly qualifying for the World Cup over Portugal, a visibly frustrated Mitrovic was frank in assessing his side's dwindling reception.
"I'm not expecting the stands to be full at our matches," Mitrovic told RTS post-match. "If we're going to the World Cup or in any other situation, the stands are never full.
"Maybe it's better that we have 10,000 fans or so who are actually cheering us on instead of a full stadium that starts whistling us after 15 minutes."
"I think we gave our all and want to thank those who did come out and support us. There weren't many but thanks to them. We play for them, and they're our strength. We could have expected more fans but however we play and whatever results we manage, some just don't value or respect that."
Since November's win over Portugal in Lisbon to secure an automatic berth in Qatar, Serbia have lost two of their past three friendlies.
Despite the lack of support in Belgrade against Norway, the performance gave reason for the Orlovi's record goal-scorer to remain buoyant, heading into Sunday's match at home to Slovenia.
"It's the second loss since we qualified, and our first at home," Mitrovic said. "It wasn't a sight for sore eyes as a match – it's the end of the season, we're exhausted. The most logical result would have been a draw, but we weren't able to equalise.
"We started the second half stronger, but they shut the game down well. Still, it's the start of the group phase. The next game's at home too."
Tags