The Open: Woods accepts 'window' for Major outings is closing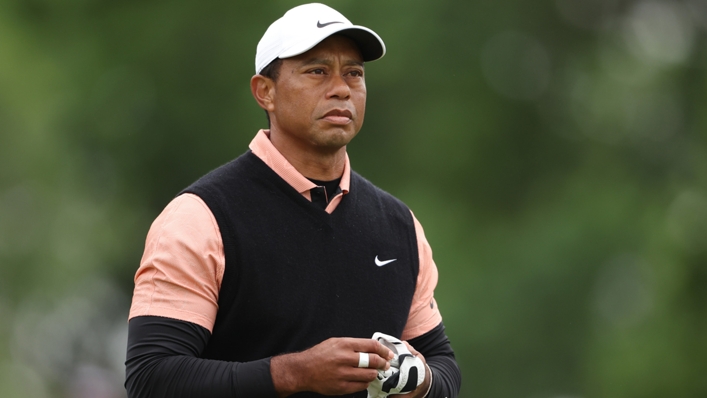 Tiger Woods is unsure how long he will be able to play elite-level golf as he prepares for his 22nd Open appearance, having missed last month's US Open in order to ensure his fitness for another outing at St Andrews.
Fifteen-time Major champion Woods made a sensational return at the Masters in April, defying the odds to make the cut after suffering serious leg injuries in a car crash in February 2021.
The 46-year-old has won three Open titles, the most recent of which came in 2006 when he edged out fellow American Chris DiMarco for a two-shot victory, becoming the first man since Tom Watson in 1982 and 1983 to win the tournament in consecutive years.
And Woods says missing last month's US Open, won by Matt Fitzpatrick at Brookline, was a decision he took in order to protect his participation at St Andrews, where he won Open titles in both 2000 and 2005.
"The plan was to play the US Open, but physically I was not able to do that," he told BBC Sport.
"There's no way physically I could have done that. I had some issues with my leg, and it would have put [The Open] in jeopardy, and so there's no reason to do that."
Woods also said he experiences "very difficult days when moving off the couch is a hell of a task, and that's just the way it is".
As the golf legend looks forward to The Open, which begins on July 14, he accepts his window to play at the majors is closing due to his injury troubles.
Asked how long he could continue at the top level, Woods said: "I don't know. I really don't.
"If you asked me last year whether I would play golf again, all of my surgeons would have said no. But here I am playing two major championships this year.
"I will always be able to play golf. Whether it's this leg, or someone else's leg, or a false leg, or different body pieces that have been fused, I'll always be able to play.
"Now if you say play at a championship level, well, that window is definitely not as long as I would like it to be."