Tommy Fleetwood says his wealth of links experience gives him an edge as he bids to end England's Open Championship hoodoo this week.
It has been 29 years since Nick Faldo lifted the Claret Jug back in 1992 at Muirfield, while no Englishman has won the event on home soil since Tony Jacklin all the way back in 1969.
Southport-born Fleetwood, 30, would be an extremely popular winner at Royal St George's and admits he is taking confidence from his lifelong love of the unique challenge posed by links courses.
He said: "Links golf is something I feel very comfortable with. I grew up in a links town and, although I wasn't a member on a course, I played on it a lot.
"When I go home, I go and play Hillside [Golf Club, Southport] with my dad, so I think links has been more in my life than most other golfers.
"I feel like in Scotland last week [at the Scottish Open], the way the course plays with how the ball bounces and the turf, that's good preparation for this week.
"But when I'm home, once a week I get to play on a links course, so it's not something I feel like I need to go out of my way for and prepare really hard for.
"As soon as I step foot on a links course, I feel pretty comfortable with what is needed."
Rising to the occasion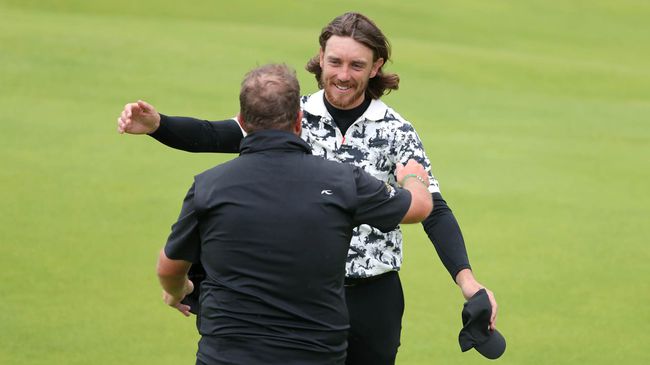 A two-time runner up in Major championships, including behind Shane Lowry in the 2019 renewal of this event, Fleetwood has shown himself to have a liking for the big stage.
And the five-time European Tour winner confessed the iconic British Major gets his competitive juices flowing more than any other event.
He added: "It's an amazing opportunity. Very, very special.
"I've said it many times. It's nerve-wracking, yes. Having a home crowd adds a different element to the event but I love it, I really do. It's always going to be my home event.
"The one time I was in the final group on a Sunday [in 2019] was probably the only time I wouldn't have the crowd on my side!
"But I consider myself very lucky to be able to play this tournament as one of the home favourites and get the support that I do. I always look forward to it."
The action tees off on Thursday morning from Sandwich with up to 32,000 fans expected to be in attendance on each of the four days.
Stick with LiveScore for all the latest breaking news from the 149th Open Championship.