Berhalter hails USA response after late El Salvador draw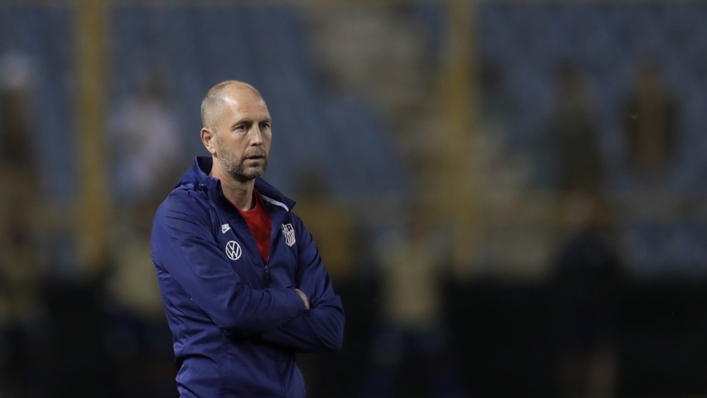 United States coach Gregg Berhalter believes salvaging a late draw in the CONCACAF Nations League at El Salvador will help his side to grow.
Alexander Larin scored in the 35th minute to put El Salvador on course to end a 19-game winless streak against USA, which has spanned 30 years.
But Jordan Morris popped up in the 91st minute with his 11th international goal, and first since November 2019, to steal a 1-1 draw on the road in difficult, rainy conditions.
That was after both teams had players sent off, with American Paul Arriola dismissed for a lunging tackle on Larin and Ronald Gomez for a challenge on Yunus Musah.
Berhalter has two more friendlies to evaluate his side before the World Cup in Qatar, and says the performance at El Salvador will go a long way to developing their character.
"The group grows with moments like this," Berhalter said. "After the game, Jordan Morris walks into the locker room and everyone starts cheering.
"Everyone's uniform is a dark brown colour, the shoes are a mess, the staff is all dirty. This is what builds teams."
Morris' Seattle Sounders team-mates were hammering Vancouver Whitecaps 4-0 in MLS while the El Salvador clash went on, and he reminisced on youth football in America leading to this moment.
"These are kind of some of the fields I used to play on as a kid," Morris said.
"Being from Seattle, obviously, it's not the mud – the rain. I love playing in the rain. So I was just embracing that moment. I think the team as a group just embraced the challenge."
Christian Pulisic captained his country but all eyes were on Haji Wright as the forward competes with the likes of Jesus Ferreira, Ricardo Pepi, Josh Sargent, Jordan Pefok and Daryl Dike for a place up top.
While Berhalter was left somewhat underwhelmed by Wright's performance, he assured that it will not be his final chance in the side.
"It's always difficult when players get an opportunity and don't fully capitalise on it," Berhalter said. "It's not nice for a coach. It's not nice for the player. It's not nice for the group.
"We were all rooting for Haji to be a force. We purposely played more direct in the first half because we thought he could be the force that would unsettle them.
"And it just wasn't his night. That doesn't rule him out for anything in the future. We don't work like that."
Tags