Ten Hag will not abandon his philosophy after Brentford humiliation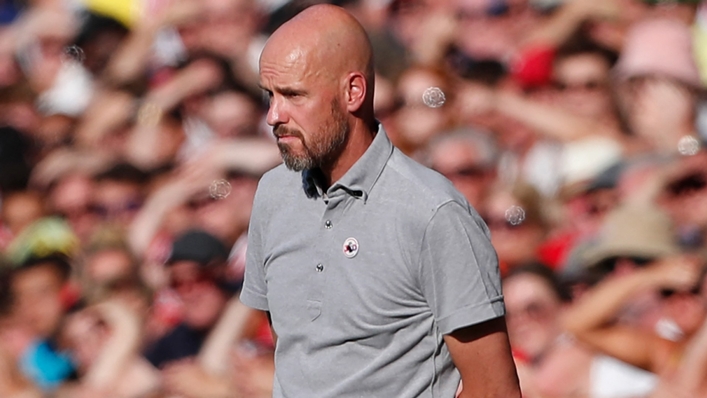 Erik ten Hag is adamant Manchester United's humiliating 4-0 defeat to Brentford on Saturday was caused by individual mistakes rather than it being a consequence of flawed tactical decisions.
United were hoping to bounce back from last weekend's 2-1 home loss to Brighton and Hove Albion when they travelled to London, but they left with one of their worst defeats in Premier League history.
Brentford were 4-0 up at half-time, becoming only the third team to reach such a scoreline against United in the Premier League by the interval, while the Red Devils succumbed to a fourth successive league loss for the first time in 43 years.
As such, United finished the day bottom of the Premier League, something that has not occurred since the competition's second matchday ever in August 1992.
Part of United's problem seemed to be their persistence at trying to play out from the back, with Christian Eriksen twice robbed in compromising positions, the second such instance leading to Mathias Jensen making it 2-0 as the United player received a needlessly risky pass from David de Gea.
It was put to Ten Hag in his post-match news conference that United got their tactics wrong against a Brentford side that pressed high with impressive intensity, but the Dutchman refused to accept such an assessment.
"This is a conclusion, I will not admit that," he said. "They can and show already in pre-season this has nothing to do with that and it's about when you make the mistakes you make, every plan and strategy you can put in the bin.
"I think we all have seen the game and I think Brentford was more hungry, and we concede goals in individual mistakes.
"You can have a good plan but we had to put the plan into the bin. I think it had nothing to do with tactical and that the first two goals, it's about dealing with the ball, that's one, and decisions.
"I think they follow my instructions, but they make bad decisions and that's football, it's a game of mistakes and you get punished."
But while Ten Hag is keen for United to try and play out from the back, he was frustrated by the players' inability to adapt to a slightly different approach when aggressive nature of Brentford's pressing became apparent.
Quizzed on Eriksen twice being caught on the ball in deep positions, Ten Hag said: "Yes, but he didn't have to receive the ball there, because we give options and the players have to choose but we said play long, invite them and play long.
"I don't want to play from the back when it's not possible. It was naive how we played today; you have to play more direct. We attracted them, the space was high up the pitch, you have to do that option but that is what we didn't do.
"We will learn, we will have to learn, it's not good enough, clear, it's not the level and the standard how we want to act.
"It's not possible the opponent is more hungry than you are. I saw in the second-half a comeback but you have to start well and it's not good.
"When the results are like this, I can imagine that feeling, it's also no good. That we show that, clear, so we have to change that. We need more hunger on the pitch and show that as an individual and as a team."
Up next for Ten Hag and United is the visit of Jurgen Klopp's Liverpool to Old Trafford a week on Monday.
Tags