Stokes hails England courage after another remarkable chase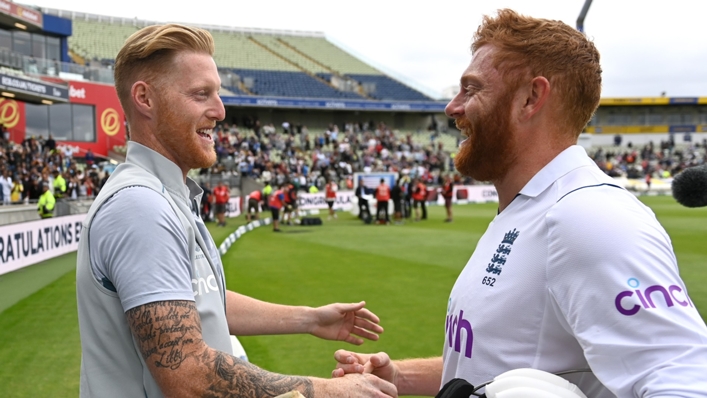 Ben Stokes believes no other Test side can match England's bravery after the hosts completed a record 378-run chase to beat India in a remarkable Test match at Edgbaston.
Despite being reduced to 109-3 at one point on day four, England recovered to better their terrific exploits during the recent series whitewash of world Test champions New Zealand.
The hosts surpassed their previous best chase (362-9) against Australia in 2019, sealing the victory on Tuesday.
That means England have secured three of the 10 highest chases in their history in their last three Test matches, with the Ben Stokes-Brendon McCullum regime having reinvigorated the country's red-ball side.
Speaking to BBC Sport after the win - which saw the delayed series drawn at 2-2 - skipper Stokes declared that while other sides may match England for talent, none could replicate their courage.
"It is amazing," he said after a fourth straight Test match win.
"The change, you're talking about mindset and everything like that - when you've got real clarity in what you want to achieve as a team and how you want to play, it makes things a lot easier.
"We know what we were going to do - we knew we were always going to go out and try and chase that down from the get-go.
"A great way to explain is that teams are perhaps better than us, but teams won't be braver than us."
Joe Root and Jonny Bairstow both brought up centuries to get England over the line in speedy fashion on day five, with the latter becoming the first batsman to score six or more centuries in a single calendar year in Tests when batting at five or below.
And Stokes heaped praise on the Yorkshire-born duo for their stunning performances, comparing Bairstow's recent displays to his limited overs showings.
"As people from Yorkshire say, 'strong Yorkshire, strong England'. It couldn't be more true right now. These two are just phenomenal," Stokes added.
"Rooty has been doing it for 10 years and Jonny has just honestly been ridiculous over the last five or six weeks.
"He has got runs but it is the way that he has done it - it's exactly what we talk about. He has embraced it and just gone out and there and done it. It is like watching him play white-ball cricket at the moment."
Having also become just the third England player to hit a century in both innings of a Test against India (after Graham Gooch and Andrew Strauss), Bairstow explained the players were simply enjoying an exhilarating brand of cricket.
"It is awesome, it is a great environment at the moment," Bairstow said. "It is fantastic, the way we're playing, and everyone is really enjoying the success and that is a huge part of it.
"If Joe and I are out there doing it together, we're in a really good place. We've been doing it for a long time together now.
"It is really special to knock off 378 with just three down. It is something that we'll never forget. After day two I got asked, 'what do you think is too many', and I said 'whatever they set we'll go for'.
"That's exactly what we did. The opening partnership deserves a huge amount of credit, for the way they went about it and the brand of cricket that we're trying to play, it was epitomised by that opening stand.
"It isn't going to work every time, but the pressure and intensity which they put on world-class bowling takes a huge amount of guts, courage and skill."