EXCLUSIVE
Tchamadeu aiming for AFCON after earning first Cameroon call-up
Mitchell Fretton
LiveScore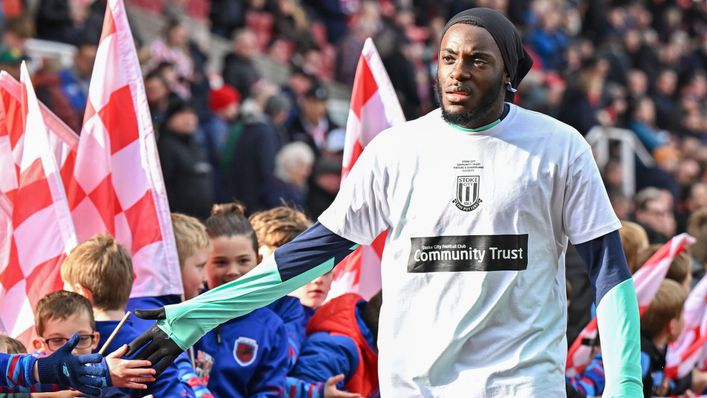 Junior Tchamadeu has set his sights on the Africa Cup of Nations after being called up for the first time by Cameroon.
The Stoke wing-back — who signed from League Two side Colchester in the summer — has already made four appearances in the Championship under Alex Neil and is excited at the chance of representing his country.
Speaking to LiveScore, he said: "During this upcoming international break, I just want to find my feet around the camp, try to play some games for my country and perform because if I don't, that chance of going to AFCON is gone.
"It's a big tournament in Africa and of course that's a good way to get to the World Cup as well — definitely something that's on my mind to be a part of.
"It's a big milestone for me and my parents, so when I got the news I told them and I could see how happy they were in their faces.
"It's always a nice feeling, making your parents proud. I'm just glad I've been doing that.
"The last time I went to Cameroon was 10 years ago and I was nine. So to go there again after 10 years in this manner as well, it means a lot."
Tchamadeu will be linking up with Premier League stars Andre Onana and Bryan Mbuemo in Rigobert Song's squad, alongside some other top talents from Europe's elite leagues.
And the 19-year-old admits he will seek guidance from those experienced players who have already made it to the top.
He added: "I would like to have a conversation with them about the Premier League and have an idea of what it's like for them because that's the level I want to get to.
"It's good to have those types of players around me that could be giving me advice and then be able to play with them, train with them and just to learn a lot from them.
"I'm really looking forward to everything. The football side of it and off-the-field stuff, the culture and embracing my home."
Cameroon kick off their 2026 World Cup qualifying campaign against Mauritius on Friday, with their Africa Cup of Nations journey starting against Guinea on January 15.
Tags