Chelsea's expensively assembled attack is not providing much value for money at the moment.
Thomas Tuchel's team looked blunt in Tuesday night's 1-1 draw at Brighton, having also failed to find the net against Manchester City three days earlier.
So, what can the Blues do to get their wealth of offensive weaponry firing?
Ahead of this afternoon's derby clash with Tottenham, here are some potential solutions to the West Londoners' woes.
Burning out
Speaking after the Brighton match, Tuchel admitted that his team are in desperate need of a break.
He said: "[Even] in the reaction of the goal [we scored], you can see that we are tired.
"We are relieved but there is no joy. We look tired, and we are. You can see we are mentally tired. We need some days off, there's no other solution."
With just five days between that fixture and today's encounter, the Chelsea boss will have to wait to get his wish.
But upcoming games in the FA Cup and Club World Cup will offer the German tactician a chance to rotate his squad in the weeks ahead.
A summer of regrets?
Last summer, Chelsea offloaded two first-team strikers in Olivier Giroud and Tammy Abraham, who joined Italian sides AC Milan and Roma respectively.
Letting Giroud leave was probably the right decision as he approached his 35th birthday — but selling Abraham, even for £34million, may have been a mistake.
The 24-year-old has settled in nicely with Jose Mourinho's Giallorossi, finding the net 15 times in all competitions.
There is nothing to suggest that Abraham will be on his way back to Stamford Bridge any time soon but it is worth noting that the Blues reportedly have an option to buy the England international back for £68m in the summer of 2023.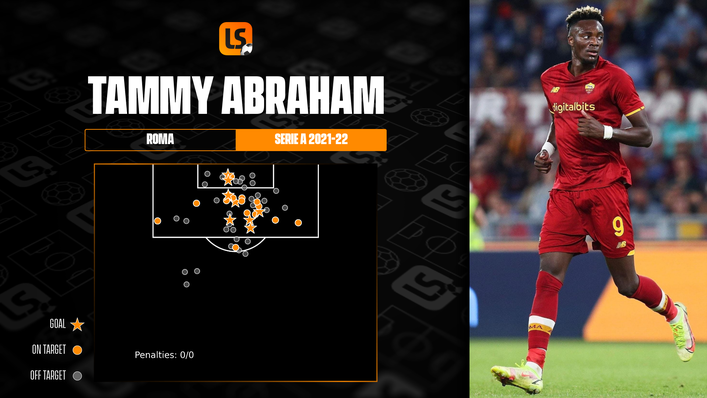 Not targeting Lukaku
Chelsea broke their transfer record for the second year running in August, bringing Romelu Lukaku back to the club for £97.5m.
The Belgian was signed to score goals as he had done for Inter Milan in the previous two seasons.
But things have not quite panned out that way so far. He has only struck five times in the league this term at a rate of one every 199.6 minutes.
That is way down on his record of a goal every 120.25 minutes for the Nerazzurri last season.
It does feel as though Tuchel is not 100% sure how to use Lukaku. It is certainly not as a target man after he put in an ineffective performance against Manchester City last weekend.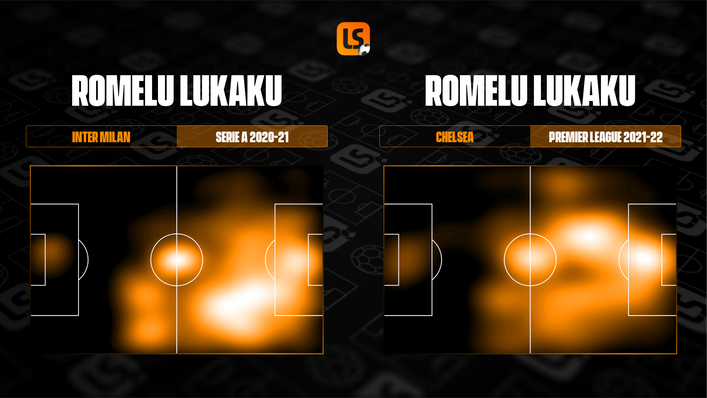 Double up?
Whether it is a 3-4-2-1 or 3-4-3, Chelsea currently play with a lone striker — but it does not have to be that way.
Tuchel could keep his preferred back three while switching to two up front, with a number of his players capable of operating as a No10 in a 3-4-1-2 set-up.
Timo Werner has endured a torrid time with the Blues in a goalscoring sense but his space creation through off-ball runs is an underrated aspect of his game.
As much as Lukaku is capable of making space for himself, he could be absolutely devastating with that extra room to play in — much like how he thrived alongside Lautaro Martinez at Inter.
Bring in a wing-back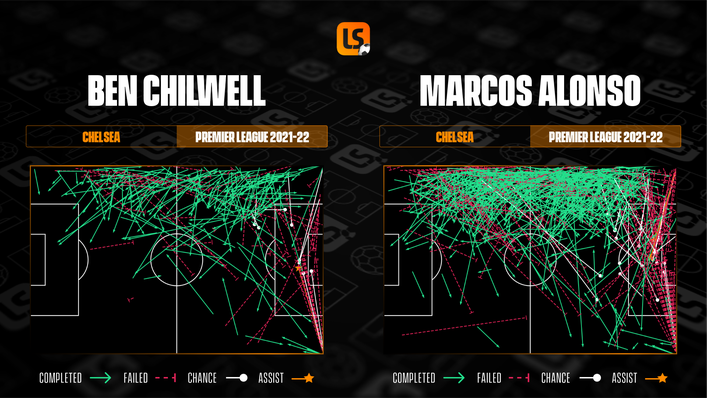 It has been widely reported that the Blues are in the market for a new left wing-back this month, with Ben Chilwell set to miss the rest of the season following knee surgery.
And their recent attacking deficiencies can partly be put down to the loss of one of their bigger creators. Before his injury, the former Leicester star was creating chances at a rate of 1.67 per 90 minutes.
Marcos Alonso does not rank far behind, averaging 1.45 chances created per 90, while Callum Hudson-Odoi has shown glimpses to suggest he is a viable left wing-back option — but it is hard to deny that Tuchel's men are worse off without Chilwell.
Strengthening on the left flank could be key to getting Chelsea and Lukaku firing in the final months of the season.