Talking Tactics: Dyche's Toffees will be no soft touch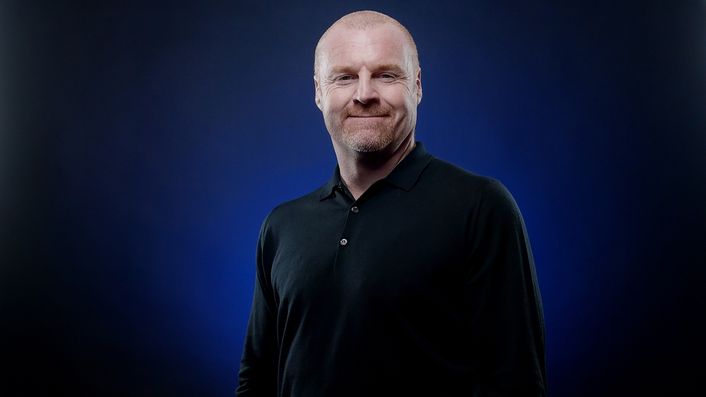 Everton have looked like a team lacking cohesion this season but they have appointed a master organiser in Sean Dyche.
The Englishman's Burnley were one of the Premier League's most stubborn outfits during the bulk of his Turf Moor tenure, constantly performing better than the sum of their parts.
With limited time left in the January transfer window, Dyche must quickly galvanise a Toffees squad low on confidence who find themselves embroiled in a wide-open relegation battle.
We take a closer look at how the 51-year-old will go about his work at Goodison Park.
Underestimated
During his time in East Lancashire, Dyche forged a reputation as an efficient coach who often found a way to get positive results even if his football was not easy on the eye.
Though pundits often praised his achievements at Burnley, their assessments often underplayed the level of tactical intelligence the Kettering-born boss clearly possesses.
Perhaps that is because the man himself chooses to keep things simple.
Asked about his footballing philosophy in October 2020, Dyche said: "We are a football club. Using the word philosophy, I mean, it's pseudo-intellect, isn't it? It is putting yourself in a bracket of deep, guru-type thinking.
"It is just a bit of a grand term for someone who is talking about football. A lot of how we work is just good common sense."
Keeping it simple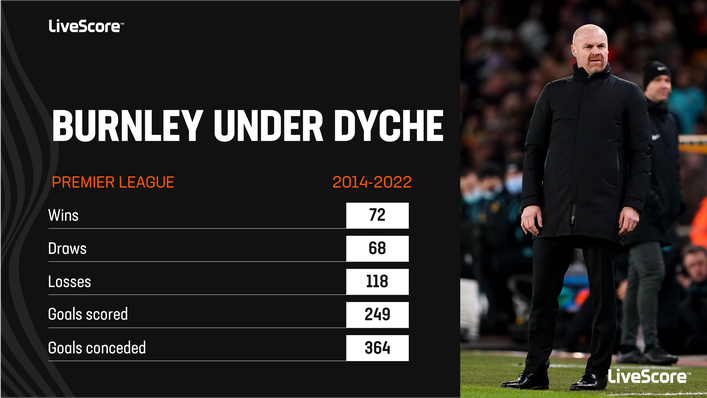 Dyche has not reinvented the wheel when it comes to his playing style but his success has not come about by accident either.
Meticulous planning is at the heart of everything he does. Countless former players have spoken of being given clear and concise briefings on their roles prior to every match in no-nonsense fashion.
In terms of formation, however, Dyche has shown himself to be flexible.
His Burnley side became synonymous with a rigid 4-4-2 shape. However, he also oversaw a well-drilled 4-3-3 during his time in charge of Watford.
Regardless, the key principle remains the same — disciplined defending from front to back when not in possession.
That will be music to the ears of Everton fans, who have seen their side's backline breached 23 times in their last nine outings across all competitions.
No fear
While Dyche may not have the pedigree of a Carlo Ancelotti or a Rafa Benitez, the Toffees will fear no opponent under his stewardship.
His Burnley qualified for Europe against all odds in a memorable 2017-18 campaign, while two years ago they ended Liverpool's remarkable 68-game Premier League undefeated streak at Anfield.
Speaking about that iconic victory in detail on The Coaches' Voice YouTube channel, Dyche explained: "When you come across a result like that, you're not really bothered about how many games they've gone without losing at home — that's not of my concern.
"It's a feather in your cap to a point but I'd been in the Premier League long enough to have a few of them. We'd beaten Manchester City at home, Chelsea away, Liverpool at home.
"But that kind of result builds belief in the players, belief in what you're doing and you need that kind of result occasionally in a group to revive the confidence in what you're doing.
"Ultimately it's nice for the fans though, and good for football to occasionally take these giants on and get a win."
Tough start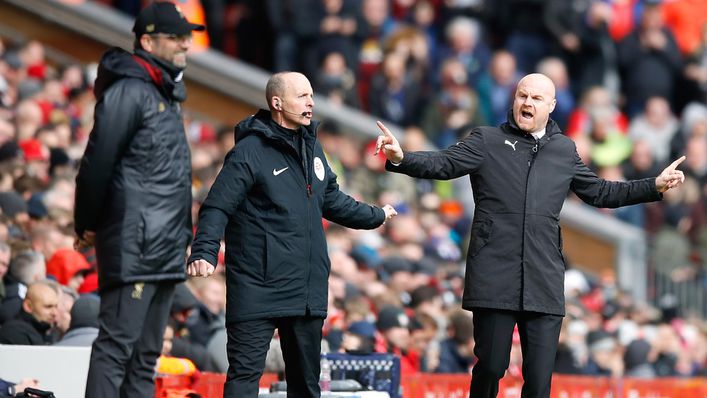 Dyche's Everton era will begin in the toughest possible fashion when league leaders Arsenal visit Goodison Park on Saturday lunchtime.
In front of raucous home support, however, it also represents a free hit for the new Toffees boss to add yet another feather to that cap of his.
Upon being appointed, Dyche explained: "We want to bring back a good feeling. We need the fans, we need unity and we need everyone aligned. That starts with us as staff and players.
"Our aim is to put out a team that works, that fights and wears the badge with pride. The connection with the fans can then grow very quickly because they're so passionate.
"There is quality in this squad. But we have to make them shine. That's the job of me and my staff."
Dyche's last five meetings with the Gunners as Burnley boss resulted in one win, one loss and three draws in what were all extremely tight encounters.
Do not be surprised to see similar again this weekend.
Tags