It has been a mixed start to the season for Leicester — and things will not get any easier when Napoli come to town.
The Foxes have kicked off 2021-22 with two wins and two defeats but there will be no respite in tonight's Europa League clash with the Partenopei.
Napoli boast an impressive line-up, including one of the world's best defenders in Kalidou Koulibaly, a familiar face in midfield in the shape of former Fulham man Andre-Frank Zambo Anguissa and dangerous striker Victor Osimhen.
So how can Leicester secure a result against the unbeaten Neapolitans?
Bright start for Spalletti
Napoli have started well under new manager Luciano Spalletti, who replaced Gennaro Gattuso in May.
They defeated fellow top-four contenders Juventus at the weekend, having already seen off Genoa and Venezia so far this season.
Lorenzo Insigne has been a standout player, as might be expected, but there is a chance he could miss the game against Leicester through injury.
Hirving Lozano may come in to replace him, while Matteo Politano has started the season brightly on the other wing.
How do Napoli play?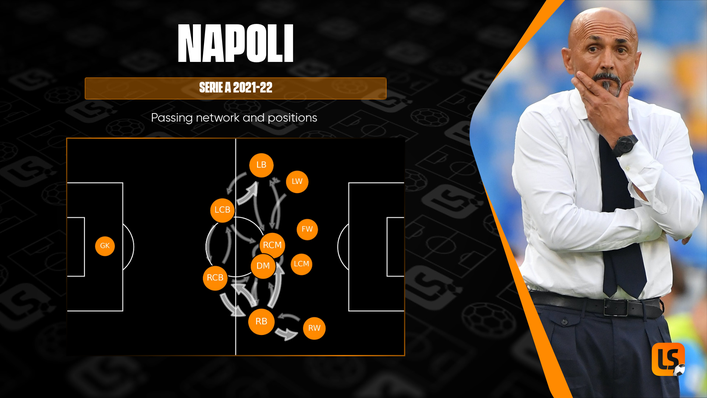 It is early days for Spalletti's Napoli but a team identity is already emerging under the new boss.
In a press conference ahead of the new season the 62-year-old outlined his tactical plans, which are reflected in the passing network above.
He said: "In my mind is a Napoli side that can surprise the opponents. A 4-2-3-1 gives us balance in both phases, while 4-3-3 is similar, it's just a slight shift.
"We need to do more on the ball. For example, Italy and in general the best European clubs now cover the full width of the pitch when attacking. We mustn't sit back on the defensive.
"When the team goes on the attack, the midfielders must follow them and press, so I ask the midfielders to put in a lot of kilometres, to be where they are needed."
Im-pressing
No team in Serie A has pressed more often in the final third than Napoli this season.
This indicates Spaletti's side are aiming to pressure opposing sides as they try to build out from the back and look to force mistakes in dangerous areas.
Individually, Politano and Fabian Ruiz are both in Serie A's top 10 players, when it comes to pressures in the final third.
The average positions pass map above shows how high up the pitch Napoli are playing, while their areas of defensive engagement — indicated by the more solid orange lines below — show how strong they are at defending in their opponent's half and how often they do it.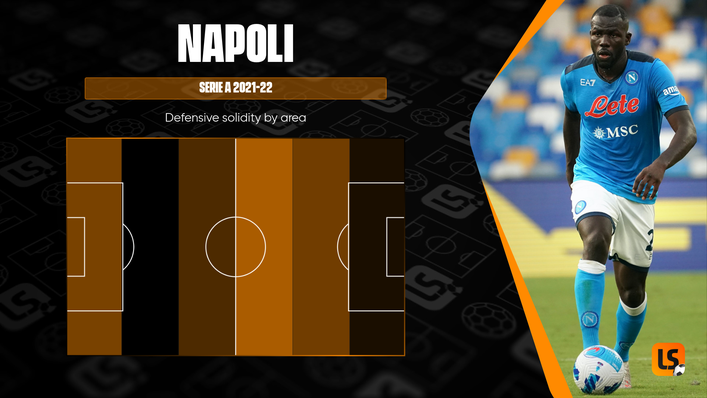 How can Leicester stop Napoli?
If your players are good enough, there is often no need to alter your own game plan against a high press — and Leicester's midfielders certainly fall into that category.
There are few better partnerships than Wilfred Ndidi and Youri Tielemans. And with the creativity of James Maddison in front of them, they should naturally cause Napoli problems.
The midfield is one of the best in the Premier League, and as a result one of the best in Europe, but a lot will depend on how they work the ball from the back.
They could even decide to go over the top — a common tactic to beat a high press — but one that manager Brendan Rodgers is unlikely to entertain.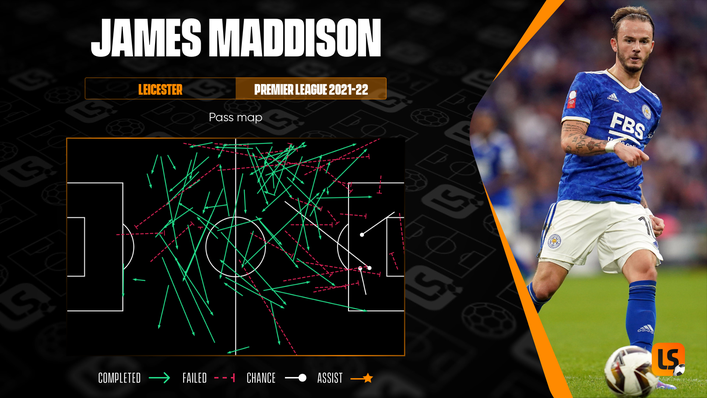 Champions League future?
Napoli have been present in the Champions League in four of the past six seasons but this is the second campaign in a row they have had to make do with a place in the Europa League.
Leicester themselves have been very close to qualifying for Europe's premier tournament in the past two years.
They were in the top four right up until the final two weeks of last season, eventually finishing fifth, and it was a similar story in the 2019-20 campaign.
These two sides are certainly not far off Champions League quality and are two of the strongest in the Europa League on paper, with both having won domestic cups in recent years.
Expectations will be high for the Foxes and the Partenopei and tonight's match promises to be one of the biggest clashes of the competition's group stage.