Szczesny aiming to help old mate Lewandowski hit the goal trail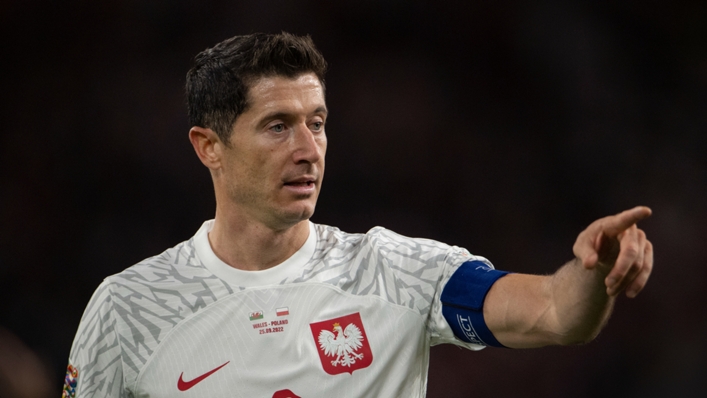 Poland goalkeeper Wojciech Szczesny is hoping he can help star striker Robert Lewandowski achieve his ambitions on the international stage.
Lewandowski will spearhead the Polish challenge at the World Cup in Qatar, starting with Tuesday's Group C encounter with Mexico.
The Barcelona striker has enjoyed a glittering club career, most notably at Bayern Munich with whom he won the Champions League in 2020, but has found success harder to come by with the national team. Lewandowski is Poland's record goalscorer with 76 in 134 appearances – including nine in their qualifying campaign – but has never scored at a World Cup.
Juventus goalkeeper Szczesny said: "I think it's important for him, he is very motivated.
"No-one doubts that Robert is one of the best players in the world and he would definitely like to see his ambitions come true – not only at his club but also with the national team. We all have the same ambition, not just him."
Szczesny, 32, and Lewandowski, 34, are most likely playing their final World Cup and the former Arsenal man is hoping to enjoy his "last dance".
He added: "I do hope we catch a good rhythm and the music will lead us on. This is definitely my last World Cup, and for some of the other players probably, so it would be great to have something to remember as a success."
He is expecting a tight opener against Tata Martino's men, however.
"They are at a similar level to us and also have some wonderful players," he said.
"We are well prepped, we have analysed them well, but we will need to bring the theory to the pitch. We could win or also lose so it will be an interesting game."
Mexico endured an unconvincing qualifying phase and their form has not improved in recent months with just four wins from their last 11 games.
Expectations are low back home, but Martino insisted that was in contrast to strong belief within the squad.
The former Barcelona coach said: "We always try – regardless of what happens – to be aligned with our whole country.
"We reached the World Cup and we will try to be strong, from what we can control of course. This national team is very strong internally. I don't know if what happens outside makes us stronger, but what happens internally certainly does."
Tags