Struggling Seahawks activate Peterson for 49ers clash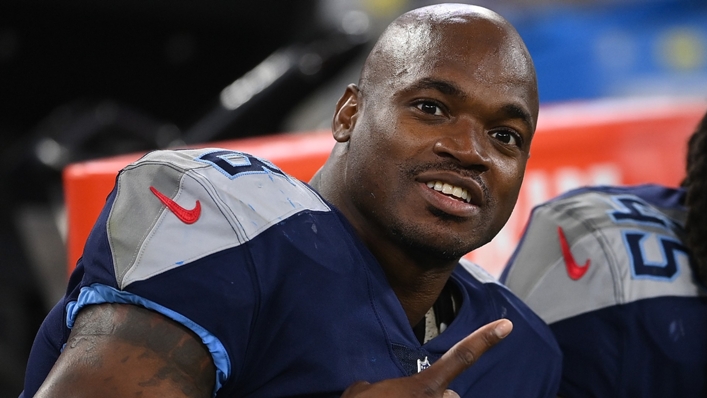 The Seattle Seahawks activated veteran running back Adrian Peterson off the practice squad for Sunday's clash with the San Francisco 49ers.
Struggling Seattle had signed future NFL Hall of Famer Peterson earlier this week but elevated the 36-year-old on Saturday, despite only two days of practice.
The Seahawks (3-8) brought in the 2012 MVP and seven-time Pro Bowler – who was waived by the Tennessee Titans – for depth due to a growing injury list.
"Adrian had a good week," Seahawks head coach Pete Carroll said on Friday, with his team amid a three-game losing streak. "It's probably hard for people on the outside to understand the impact a guy with his kind of background can make.
"At a time where we're battling to try to win a game and get going, he jumped in here and had a remarkable influence on the week. With three guys banged up at the spot, we'll see how it goes on the weekend. He had a really productive week for us, and it was fun having him here.
"It's a rare opportunity for our guys to see somebody like that, that has that kind of background, but stands for so much more than just the numbers and the stats and all of that.
"He's been a remarkable competitor forever. It was so obvious. It was really a boost for a bunch of guys, the young guys in particular. He's serious about playing. He's not just here for show. He's here to come here and try to help us win a game."
The Seahawks have lost eight or more games in a season for the first time since going 7-9 in 2011. The nine straight seasons with seven of fewer losses is the longest streak in team history with the previous record being five straight seasons (2003-2007), according to Stats Perform.
Russell Wilson led the Seahawks in rushing with 16 yards in their 17-15 loss to the Washington Football Team. It was the lowest number of rushing yards for the team's leading rusher since Week 9 of 2016 when Tyler Lockett led the way with 13 rushing yards against the Bills.