Strauss: McCullum 'perfect person' for England transformation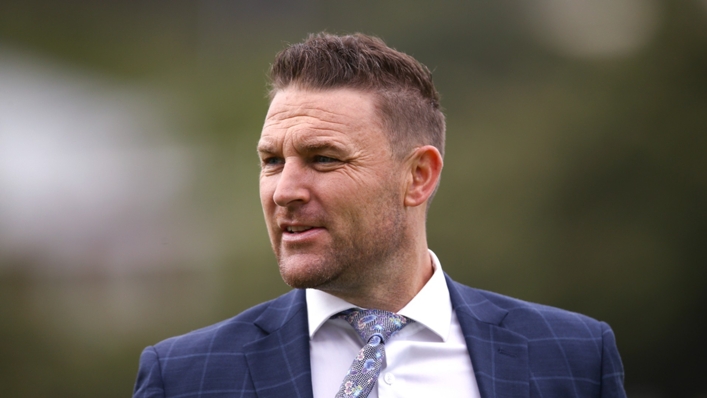 Brendon McCullum is the "perfect person" to turn around England's Test fortunes, according to Andrew Strauss, who was a part of the selection panel for the new men's head coach.
England have won just one of their last 17 Tests, leading to the resignation of captain Joe Root, with Ben Stokes stepping up as skipper in April.
Former opener Rob Key was also appointed as managing director of men's cricket and was tasked with reshaping the faltering structure to make England competitive once more in the five-day game.
As well as confirming Stokes as captain, a decision was made to hire separate coaches for the red ball and limited-overs sides, with McCullum announced as Test coach on Thursday.
The decision represents somewhat of a gamble as New Zealand legend McCullum has only ever coached T20 franchises in the form of Indian Premier League side Kolkata Knight Riders and their Caribbean Premier League affiliate Trinbago Knight Riders.
However, McCullum played 101 Tests for New Zealand and captained the side through a transformative period, and Strauss believes the 40-year-old is a great appointment by England.
"I'm delighted and I'm excited. He blew us away with his clarity of thinking and his simple approach," the England and Wales Cricket Board's strategic adviser Strauss told Sky Sports.
"He's a very positive guy with a very clear mindset and he will embed that in the Test team at a time when confidence is a bit low and people need a bit of clarity and direction.
"He's an impressive guy. He can't wait to start and, quite frankly, I can't wait for him to start.
"[As a player] he was incredibly ambitious, he used to run down the wicket against some of the quickest bowlers in the world.
"He always took the positive option, he wasn't scared of failing, he wasn't scared of making mistakes and I think that is what this Test team needs at the moment.
"They need someone to back them, to give them confidence and inspire them, and they need to break the shackles and realise how good they are. I think he's the perfect person to do that."
McCullum's first task will see England host his country of birth, New Zealand, in a three-Test series that starts at Lord's on June 2.